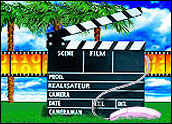 Part 1 of this three-part series looked at the growth of 3-D movies and electronic distribution. Part 2 focuses on the technology found in the projection booth of a high-end 3-D movie theater.
3-D has been given a really big job — coax audiences young and old(er) alike away from their big screen home TVs, their PCs and their video games and back into movie theaters.
On Dec. 4, 3ality Digital joined forces with Beverly Hills-based RealD and the National Football League (NFL) to test a 3-D broadcast experience designed to immerse viewers in the game as never before. The first-ever live broadcast of an NFL game in full-digital 3-D format — NFL Network's Thursday Night Football game between the San Diego Chargers and the Oakland Raiders — was made available to select movie theater audiences in three U.S. cities.
The groundbreaking broadcast was shot and transmitted by 3ality Digital and shown to invited guests at RealD 3-D-enabled theaters in Boston, Hollywood and New York City. The 3-D nature of the broadcast, intended to incorporate near pixel-perfect quality, sought to convey the sense among viewers that they were actually on the field with the players. Two satellite glitches blacked out the broadcast in the first half of the game, and on a few occasions, quick camera movements, refocusing and dissolves had viewers pulling off their polarized lenses. However, the Los Angeles audience praised the production for its appreciable visual depth and "being there" simulated reality.
Live concerts, sporting events, movies … the theater exhibition industry is ready to do what it takes to fill seats. The projection booth is the beating heart of this enterprise.
"Conversion of 100-year-old film-based system to digital is two-fold," Charlotte Jones, Screen Digest's film and cinema senior analyst, told TechNewsWorld. "Establishing a digital distribution infrastructure in order to replace the current physical transportation of 35 mm prints to and between cinemas, and replacing all the world's modern cinema screens and mechanical 35 mm projectors with digital system — projector, servers, etc."
Puff the Magic 3Dragon
At the forefront of the 3-D digital charge is RealD Cinema, which supplies equipment and technology for the projection of 3-D movies. Last May, RealD and Regal Entertainment Group, the owner and operator of the world's largest movie theater circuit, announced a partnership deal that calls for a rollout of 1,500 RealD 3-D screens, which would take the RealD 3-D screen count to more than 3,500.
Beyond cinema, RealD is a worldwide inventor and provider of key stereoscopic technologies used in science, manufacturing, marketing and other industries, with 30 years of scientific development behind its systems. RealD's mission-critical 3-D visualization technologies are used by organizations such as NASA, Pfizer, BMW, Boeing and others.
The RealD 3-D system is based on the push-pull electro-optical modulator called the "ZScreen," invented by legendary American innovator Lenny Lipton, noted author, filmmaker, stereoscopic vision system inventor and writer (e.g., the lyrics to the song "Puff the Magic Dragon.") The StereoGraphics Projection ZScreen projects bright, crisp, high-resolution color images from stereo-ready NT and Unix workstations.
StereoGraphics was acquired by RealD Cinema in 2005, and Lipton now serves as the company's CTO for StereoGraphics. He holds 31 patents in the field of stereoscopy and has another 30 pending. The 3-D system now showing in theaters under the RealD name is his invention.
Lipton acknowledges shortcomings in his creation. Studio executives complain they have to run RealD masters through an extra process to eliminate "ghost" effects, and they complain about the hassle of needing to maintain an extra master for RealD titles, a problem the company has said it would fix for the last year, according to one studio executive.
"They have a right to want a single master," Lipton told TechNewsWorld. "We are working on the problem and will solve it with a product we will deploy for the projection booth."
The most important issue is that theater owners upgrade to digital cinema, according to Josh Greer, RealD founder and president. That means being compliant with the Digital Cinema Initiatives (DCI), a joint venture of major motion picture studios, formed to establish a standard architecture for digital cinema systems.
"For theaters to use RealD, they must have a digital projector server package," Greer told TechNewsWorld. "There are a number of companies that have DCI-compliant equipment that meets the standard from the studios. Once the theaters have digital, we upgrade that to include 3-D presentation capability. The nice thing is that it's completely backward compatible, and they can switch back and forth from 2-D to 3-D in about two seconds."
Meanwhile, RealD moves full steam ahead on the 3-D front. In 2009, the company expects to manufacture and sell 80 million pairs of 3-D glasses, becoming the largest eyeglass distributor in the world. The glasses are necessary because to present a stereoscopic motion picture, two images are projected superimposed onto the same screen through orthogonal polarizing filters. It is best to use a silver screen so that polarization is preserved. The projectors can receive their outputs from a computer with a dual-head graphics card. The viewer wears low-cost eyeglasses, which also contain a pair of orthogonal polarizing filters.
RealD's plans during the next two years include projecting more than one hundred feature films in 5,500 3-D-equipped theaters, including the first Pixar 3-D film, and films in 3-D by Henry Selick, Tim Burton, James Cameron, DreamWorks, Disney and every major American film studio.
"With the recent deals in Mexico and Canada, we've now got 98 percent of North American market for 3-D theaters," said Greer.
In Dolby
A leading provider of IT systems at the heart of e-cinema is Dolby Digital Cinema, a division of San Francisco-based Dolby Laboratories. Dolby provides mastering and encoding systems for motion picture studios as well as playback equipment for cinemas. Dolby markets the Dolby Digital Cinema system, includes support for the JPEG 2000 playback format, as specified by DCI, and also supports MPEG-2 for compatibility with alternative content, such as preshow advertising.
At the core of the system are the Dolby Show Store and Dolby Show Player units, which together provide everything needed to load, store, decode and deliver digital movies to digital cinema projectors. The accompanying Dolby Show Manager software application provides complete operational control and enables theater managers to perform advanced scheduling either locally or remotely.
The Dolby Show Store houses the digital content for playback through Dolby Show Player. Show Store, which has a capacity of a minimum of three full feature films, uses a RAID 5 hard disk array — playback continues even if a drive fails. The drives are user-serviceable and hot-swappable. Dolby Show Store also includes a removable hard disk drive, a DVD-ROM drive, and a USB 2.0 port for content delivery. Internal GPI/O (general purpose input/output) plus serial and Ethernet ports provide easy interface with cinema automation systems.
The Dolby Show Player, the nucleus of the system, contains a precision image decoder designed specifically for high-accuracy display on the cinema screen. The custom design supports double the data rate of other image decoders. It is modular and reprogrammable, allowing the flexibility necessary to adapt in the future. The Dolby Show Player also provides intuitive controls for projectionists via easy-to-use front-panel keys and a built-in TFT (thin-film transistor) display with reduced crosstalk between pixels for improved image stability.
E-Cinema, Part 1: 3-D Hits Its Stride
E-Cinema, Part 3: Adding a New Dimension
Click here to be notified when the nextinstallment in this series is published.