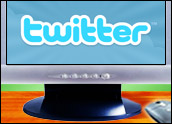 Twitter is rolling out a new tool for embedding tweets directly into third-party websites. It will provide a snippet of HTML code for the purpose, the micro-blogging site announced on Tuesday.
While any number of users will likely be interested in embedding tweets in their online content — corporate websites or even government agencies, for example — Twitter is hinting that online news services may be the ideal users.
In its first mention of the tool, Twitter points to the news blog ReadWriteWeb's use of tweets to embellish its content. With the tweets literally pasted into thestory, it said, "their integrity is preserved perfectly." In other words, no misquotes.
Goldmine of Sources
There is a sensible rationale behind Twitter's approach. The micro-blogging site is viewed by many journalists as a goldmine of sources, story ideas and angles — one that can't be replicated by even the largest rolodex of contacts or the savviest Web surfing.
The embedded tweets tool will make these sources even more useful and could lend additional credibility to an article in the eyes of readers, Rich Hanley, assistant professor and director of the graduate journalism program at Quinnipiac University, told TechNewsWorld.
Granted, news organizations already use tweets in reporting, usually by replicating the 140-character comments copy-and-paste style.
However, the ability to embed tweets in a uniform format makes Twitter "a more coherent application," noted Hanley. "From the beginning, Twitter has been a great tool for journalists. It doesn't cover stories, so it is not a competitor — it just augments them."
Variation of RSS Feeds
Embedded tweets can be likened to RSS feeds, N. Venkatraman, a business professor at Boston University, told TechNewsWorld — but more focused on specific topics that people can search.
More to the point, it is a neat, value-add answer to the seemingly insatiable need for real-time information, both in news stories and in other contexts as well, he said.
"People expect to get a sense of what is being said, what is being thought, no matter what the subject now," he said, and capturing a relevant tweet "officially" addresses that expecatation.
Long-Term Impact
By making it so easy to embed tweets, Twitter is not only solidifying its image as a real-time information source — but also one whose content is worth reporting in a news article.
"The ability to embed quotes into other sites validates their value from a content perspective," Jennifer L. Cherry, vice president of Marx Layne, told TechNewsWorld.
"The very nature of allowing and encouraging content to be embedded points to the expectancy of longevity of content — and the belief that it must have real value," she said.
Professionals may begin to craft their tweets in a more serious fashion, Cherry said, in the hope of being "embedded" in the right place at the right time.
Twitter will likely introduce additional tools or enhancements to its platform along these lines, she suggested, especially as its use as a news source continues to expand.
"As more and more people have continued to find Twitter to be a reliable news source, the medium has continued to grow for that purpose," observed Cherry. "I know several people, myself included, who pull up their first daily dose of news from Twitter."