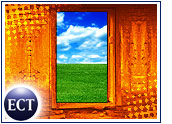 Part 1 of this two-part series discusses the growing interest in developing ways for Web surfers to move seamlessly from one online hub to another without the bother of multiple sign-ons and the inconvenience of leaving data and connections behind. Part 2 looks at some recent attempts to solve the dilemma.
Within the last two days, a handful of new platforms have been introduced that are designed to allow social networkers to climb over their clubhouse walls.
The latest is OpenID for Flock, a joint collaboration among MySpace, Flock and Vidoop.
Essentially an implementation of the broader Identity in Browser open source project, OpenID for Flock allows Internet users to store their existing identity credentials within their browser.
On Monday, two other initiatives were announced:
Facebook Connect allows a user to log into Facebook from third-party Web sites; and
Power.com provides users with a central Web site to register their all of their various member IDs and view their contacts, messages and content in one place.
Web 3.0
All three applications take slightly different approaches to solving a problem that has been brewing among social networks for some time: the hassle users must go through to port data, content and contacts from one network to another.
Power.com, for example, is seeking to establish itself as a single sign-on locale not only for social networks but also for instant messaging and e-mail accounts.
Facebook Connect — part of the next iteration of the Facebook platform — lets users transport their Facebook account information, friends and privacy to other third-party sites, desktop applications and devices.
The MySpace-Vidoop-Flock collaboration started in October 2008 when Vidoop Labs produced a fledgling prototype of IDIB, shared the code with the community, and blogged about the need for online identity to be solved at the browser level.
Both committed to OpenID, MySpace and Flock joined the Vidoop effort. MySpace became involved via its Data Availability Platform, and Flock contributed its browser expertise, furthering usability.
Features that differentiate OpenID for Flock from other OpenID browser extensions include new discovery and management capabilities. For example, it senses when users navigate to a site with an OpenID; allows configuration, management and usage tracking of all OpenIDs users have collected; and lets users select which OpenID for each site as they log on.
This trio of offerings reflects the latest evolution in Web technology, Robb Hecht, a marketing consultant with IMC Strategies, told TechNewsWorld.
"This is Web 3.0, and these services are at the forefront of defining every aspect of the social Internet experience — from social shoppers seeking advice from friends on buying products to a patient seeking advice on treatment from friends while on a content site," Hecht said.
As the industry gears up for Web 3.0, it is worthwhile to investigate why earlier generations of similar open social networking offerings fell flat.
Dissecting the Problem
One school of thought is that social networkers are too insular — the networks themselves haven't done enough to wean users away from the mother site.
Communities have flocked together and grown within popular networks such as Facebook and MySpace, noted Hyun-Yeul Lee, assistant professor of communication at Boston University.
"Popular network sites such as Facebook allow developers to build an application which can include integrating other social network sites," she told TechNewsWorld. "Unless there are convenience features compelling enough in sites such as Power.com, middleware ideas will most likely be developed and adopted within existing social networking sites."
Savvier and sexier user-oriented functionality would have helped boost the earlier initiatives, Bill Watson, first executive director of the OpenID Foundation, told TechNewsWorld.
"Some of the things that we were really hoping, or maybe secretly expecting, to see was more activity around user experience and adoption," he said. "That hasn't really started to happen until recently," he noted, pointing to Change.gov's recent announcement that it would accept OpenID.
"That is a big deal for us. Change.gov is very much mainstream — not necessarily a destination for only tech people."
Some say the lack of momentum has been due to a combination of factors: implementation that users find too complex, and inadequate security.
Some of the better sites offer application proograming interfaces that allow developers to mash up content from different sites — embedding a YouTube video on your blog, for example — but the support for this is spotty and can be difficult to implement, said Jonathan Stark, a consultant who specializes in Web applications.
Security can be a problem though. "In every case of which I am aware, mashing up private info from one site to another requires that you provide your account credentials for site A to site B," he told TechNewsWorld.
OpenID is a bit different. It seems promising, Stark said, because it allows site developers to authenticate a user without ever receiving their login credentials. "What's more, OpenID supports optional storage and site-by-site sharing of profile data, so you don't have to re-enter that all over the Web. Google Accounts, Yahoo ID, and others basically try to do the same thing, but their solutions are proprietary and raise privacy concerns in some people."
It is still too soon to say whether OpenID will reach critical mass and become widely adopted, Stark concluded, "but it — or something similar — will need to address these security concerns in order for a seamless open social network to exist."
A Day in the Life
The theme running through all of this is that these models fail to take into account how users really go about their surfing activities, said Steve Vachani, CEO of Power.com.
"When we first launched this site a year ago, we were not looking to combine all the social networks," he told TechNewsWorld.
"People have e-mail, instant messenger, social networks, and everything that they do on their mobile phones. What we are trying to do is synchronize and interoperate all of this, depending on what the user wants," he said.
For instance, someone might log onto Power.com, then navigate onto Facebook and change a photo there. The user would then be given the option of updating the same photo on the other sites registered on Power.
"What we are not doing is telling the user, 'You have to centralize on one site, before you can move elsewhere on the Web,'" he explained.
The user experience has been overlooked in many of the initiatives to connect the social networking sites thus far, said the OpenID Foundation's Watson. "More needs to be done in terms of execution. The user experience is exceedingly important for these projects to succeed — but so far has proven to be very tough to master."