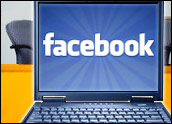 Facebook has jumped into the online Q&A space — typified, up until now, by such websites as Quora, Aardvark, Hunch, Ask.com, and Yahoo Answers — with Facebook Questions, a beta feature that can be viewed by all Facebook users.
The service is being released on a rolling basis, with reportedly some three million to five million people able to use it now.
This is how it works: Click on the "Ask Question" feature, which can be found in the status bar. Type in a query — say, "What is the best pizza restaurant in Adams Morgan?" The question becomes visible to all Facebook users. People posing questions can use a tag, in this case, "Washington, D.C.," to direct them to those best able to provide answers. The question goes out to users who share that topic's interest, as well as to the questioner's network.
Users have the option of adding a photo or a poll. For example, a user who wants to know what type of flower is growing in her backyard can take a photo and attach it to the question, Facebook suggests. Unsure of whether Xbox or Nintendo Wii would be better received by your 8-year-old nephew? Take a poll.
Finally, users can browse through all of the questions by selecting "Everything" from the "Questions about" drop-down menu at the top of the application. Click "Next Question" to read the questions and post answers.
Crowded Space
Online question-and-answer forums have a mixed history. Perhaps the best known, Yahoo Answers, can be hit-or-miss in terms of viable information. Anyone can answer the question, regardless of qualifications or lack thereof. Questions often go unanswered or attract inappropriate responses.
On the other end of the spectrum is Quora, a relatively new service. It is a smaller community in which qualified people post answers to the questions. It has become a big hit with the tech community, attracting answers from such notables as former Facebook platform architect Dave Morin and venture capitalist Fred Wilson.
It is an open question right now as to where Facebook will fall in terms of quality of content. There are, however, other ways in which this service is already distinctive, Bryan Stratton, strategy manager with StepChange, told TechNewsWorld.
"First, answers are linked back to a Facebook profile with a real name attached to it," said Stratton.
That should help to ensure higher-quality content than on sites where posters can hide behind the cover of an anonymous username.
Then there is the automatic scale that attends anything new by Facebook. "Even if only a very small percentage choose to participate, that user base dwarfs virtually any other online Q&A service," Stratton said.
For the moment, it is difficult to say how well received Facebook Questions is.
"The two biggest themes I've seen so far have been that a) many users don't have access to it yet and b) it's buggy and frustrating to use, noted Stratton. "Obviously, these will both be resolved in the very near future, and that's when we'll really get a sense of how the broader Facebook audience feels about it, rather than just the extremely early adopters who tend to rush to snap judgments."
Impact on Search
In the long run, Facebook Questions could have a significant impact on the emerging category of social search, Evan Bailyn, founder of FirstPageSage told TechNewsWorld.
"Question like these tend to make up a tremendous portion of searches. With Facebook in the picture now, I would guess there would be enough data to increase search traffic by hundreds of millions of queries.
"It is going to give them a big slice of long-tail search — and a leg up on Google as well."
One way or another, Facebook is going to benefit from the data repository that will surely build up as a result of Facebook Questions, Stratton agreed. "Facebook could easily allow advertisers to target their ads on Question pages that refer to a specific topic, or license Questions out to be indexed in search results."