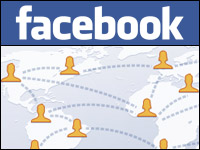 There was much speculation leading up to Facebook's product rollout announcement on Wednesday — and for once, it was right on the money. Facebook announced it will be integrating the popular video chat service Skype into its social network, with the rollout taking place over the next several weeks.
Facebook also announced improvements to its text chat tool, namely the launch of multiperson chat and new chat design box. [*Correction – July 7, 2011]
Great Number
During the press event, CEO Mark Zuckerberg confirmed that Facebook now has 750 million users — a number that had been tossed around for the past several weeks as likely.
It is a great achievement, David Binkowski, EVP of digital marketing at Lippe Taylor, told TechNewsWorld. "Other players in the space have a long way to go to catch up."
There might have been a certain element of psychological warfare in the number dropping: Facebook may have been irked that Google beat it to the punch with its rollout of Google+, which includes a group video chat component.
"Obviously, they want to make sure they are seen as having the latest and greatest in this environment," Binkowski said.
It may be the latest, but whether it's the greatest is an open question. It lacks mobile functionality, which Binkowski found surprising.
"In the short term, this is clearly meant for the desktop, but so many people are using mobile for video chat now, they cannot be ignored," he said. " I don't know if it will be as widely used as Facebook is clearly hoping."
Too Late to the Party?
Also, video chat has become almost as mainstream and accepted as email, Jason Katz, CEO of Paltalk, told TechNewsWorld.
"I have to wonder if they are a little too late to the party," he said. "Most people already know how and where to do their video chatting, and I am not sure if Facebook is the right venue. There is too much multitasking involved with Facebook. I don't think people will see it as a video chat channel."
Still, video chat is a natural extension of what Facebook has been doing with social media and chat, Dan Shust, executive director of RI:Lab, told TechNewsWorld.
Consumers might take more to it if it isn't saddled with advertisers, he added.
"Because it is a 1:1 experience, for the immediate future anyway, and it presents itself as a stand-alone pop-up window, I would hope Facebook doesn't add another layer of advertising."
A service like Google+ Hangouts seems to have more potential for advertisers, he said.
A Siloed Ecosystem
One potential downside to widespread adoption of the Facebook-Skype offering is that it could force users into into the Skype ecosystem — which would lead to interoperability issues with FaceTime and Google, Wade Vesey, CEO of Movial North America, told TechNewsWorld. That in turn will cause "siloed behavior, which is contrary to what people really want from their communications solution."
That said, Facebook's Skype integration is great news from an IP communication perspective, he pointed out, as a large amount of users now will have access to IP communications.
---
*ECT News Network editor's note – July 7, 2011:
Our original published version of this story contained this erroneous statement: "People will be able to use [the Skype] offering for one-on-one and group chats. Both will be accessible with a single click."