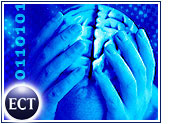 Facebook CEO Mark Zuckerberg has apologized to the social networking site's user base in response to a rising crescendo of complaints that its advertising platform, Beacon, is too intrusive.
More importantly, Facebook is now letting users opt out of the service — a step that it has clearly been reluctant to take.
Facebook has attempted to position the month-old service, which transmits users' activities on other sites, as a way "to help people share information with their friends about things they do on the Web." That's one way of looking at it. However, the service also supports advertisers that wish to piggyback on recommendations and comments of people using their products.
Complaints against Beacon quickly began to snowball, and Facebook responded last week by modifying some parts of the service to make it more transparent to users. It did not, however, allow users to completely opt out.
The situation further deteriorated for Facebook when a security research company, CA Security, reported that Facebook had been tracking user actions on affiliate sites even if a user had opted out of the program and was not logged in to Facebook at the time.
In ablog posting on Wednesday, Zuckerberg said that Beacon's launch and execution missed the right balance.
"At first we tried to make it very lightweight so people wouldn't have to touch it for it to work," he wrote. "The problem with our initial approach of making it an opt-out system instead of opt-in was that if someone forgot to decline to share something, Beacon still went ahead and shared it with their friends. It took us too long after people started contacting us to change the product so that users had to explicitly approve what they wanted to share. Instead of acting quickly, we took too long to decide on the right solution. I'm not proud of the way we've handled this situation and I know we can dobetter."
Grumblings Get Louder
This is not the first time grumblings have been heard from a normally enthusiastic user base. Facebook used to be a great way to keep in touch with friends, Greg Proechel, a Facebook user since its inception, told TechNewsWorld.
"I am two years removed from college and have seen Facebook change from a great resource into the equivalent of an electronic telemarketer in an arena filled with sex offenders and porn stars," he said.
For example, "when the Lindsay Lohan mug shot emerged on the Web," Proechel continued, "I decided as a joke to put that as my profile picture. And where two years ago, I would have received wall posts from my friends with a simple 'haha' or 'great pic,' now I sign on to see three friend requests from South Africa, Egypt and Saudi Arabia with sexually explicit messages attached."
The Beacon episode appears to have unnerved more than a few users by highlighting just how transparent their online actions are to Facebook — and how easily the site can convert those actions to monetized assets.
Strappy Shoes
The Beacon strategy was a great idea — in theory, said Charlie Brinson, a Facebook user transitioning from college to professional life.
"It is an excellent way to keep up with new styles or products that others are using in the community," Brinson told TechNewsWorld. "It gives marketers access to many different audiences, as well as a way to target these consumers." He changed his mind after Facebook broadcast his purchase of Easy Spirit Shoes for women on Zappos.com.
Not that Brinson actually purchased the shoes.
"I work close to home, so I have graciously taken my parents' offer to temporarily live with them while I save enough money to buy or rent a place of my own," he explained. "My 'roommates,' as I have begun to call them to friends and coworkers, have a computer that the entire family uses."
Brinson uses Facebook to stay in contact with friends, family and coworkers, as well as to develop professional contacts.
His ordeal began when he decided to skip the sign-in process and instead clicked the "Remember Me" box on the sign-in screen. After a session on Facebook, he closed out. Then along came one of his "roommates," who ordered the shoes from Zappos.com, which is one of Facebook's partners in the Beacon Strategy.
The next day, Brinson found that the shoes were on his minifeed. Embarrassed, he quickly deleted the reference and thought that would be the end of it. Not so.
"An e-mail went around work discussing the controversy caused by Beacon," he related, "and one of my coworkers — who was also a Facebook friend — replied to everyone that received the e-mail mentioning something in their mini-feed about 'my purchase' of some women's shoes on Zappos.com."
From there, the discussion moved to what possible type of women's shoes he had bought — pink metallic strappy stilettos or silver stilettos with rhinestones were suggested. Brinson, as bad luck would have it, was out of the office and unable to defend himself.
"I did manage to come back with a witty reply, but the emotional damage had already been done," he lamented.
Brinson's view of Facebook now? "It is absurd how they manipulated many of their trusted members by being secretive about the new program addition."
Even users who weren't burned — other Web 2.0 executives, no less — looked a little askance at Beacon.
Creepy Contact
"As a Facebook fan, I find the actual page layout more agreeable than MySpace, on which I also have an account," said Sean Miller, president of Scriblerus Press, a 501c3 nonprofit that hostsKunkelfruit Wiki. A Web page for collaborative articles on how popular products are made, Kunkelfruit uses Facebook to network with students interested in participating.
"MySpace is obnoxious in the amount of ads on each page," Miller told TechNewsWorld.
The Beacon plan, Miller said, is the logical evolution of the kinds of targeting that typify Google ads — and every other attempt companies make to find prospects.
"In one sense, this is much better than the blunderbuss approach of, for example, TV ads," he remarked.
"On the other hand, it's like a person you meet at a bar asking you a lot of nosy questions about your personal life when you've just met. Creepy."