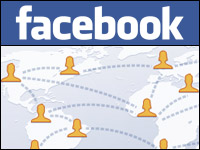 Facebook is holding an invitation-only press event on Wednesday. Thebrief announcement — that is, the prelude to the actual event — hasthrown the social media and blogosphere rumor mills into overdrive. What,the burning question is, will Facebook announce?
Much of the speculation has centered around the phone that itallegedly is developing. If not a phone, this school of thought says, then anew, deeper level of integration with mobile devices. There area host of other theories as well, that range from another hundredmillion dollar donation to charity to a new email service.
Whatever the announcement is, it had better be very significant, DanOlds of Gabriel Consulting told TechNewsWorld. "There is nothing worsethan a tech company of Facebook's stature acting coy to build up buzzand then making some everyday-type announcement."
Facebook Mobile
If the announcement has something to do with a phone, as the consensus appears to be,then Olds has little to worry about. Facebook making a play for themobile space will be big news indeed.
Rumors of a pending Facebook push into mobile have been circulating forweeks now. One variation of this theme is that Facebook is actuallybuilding a phone in partnership with a manufacturer.
Another is that Facebook and Skype are partnering, with plans tointegrate a number of functions to enhance the user experience.Users would be able to call and SMS Facebook friends from Skype and videochat from Facebook.
A deep integration with other smartphone platforms make more sensethan actually building a device, said Azita Arvani of the ArvaniGroup.
"A standalone phone or one purely focused on the power ofsocial networking is a risky bet, as these devices have not had much ofa track record," she told TechNewsWorld.
Wednesday's announcement might be a deeper integration with Skype, she said.
Another twist to this theory is the integration of Places intowhatever mobile strategy Facebook is planning, said Evan Bailyn,founder of First Page Sage."I think whatever they are planning to introduce will be along thoselines — it will be some kind of process to make it easier to usePlaces, and a Facebook phone would be a natural way to do that."
That linkage could mean Facebook will start collecting a new wave of data about users: where they are and what they are doing, Bailyn said. "A phone could integrate all of that."
It may be that Facebook is developing a proof-of-concept phone, AndyAbramson, CEO of Comunicano, told TechNewsWorld.
It would be something akin to what Google tried to do with the NexusOne, he said. "I think it will be a prototype of adevice that it hopes other manufacturers will build."
Guesses Flying
Besides the theories on Facebook's mobile initiative — whateverform it may take — speculation about what Wednesday's conferencemay have in store includes the following:
a redesign of its core features;
its own Facebook email system;
another multimillion dollar donation — or some sort of formal charity strategy;
a dislike button;
an official iPad app;
a broader launch of its Credits service;
a platform specifically for the Events product;
an upgrade to Facebook Pages;
something entirely new and unimagined.
For Facebook's sake, it had better be the latter, said PaulLevinson, head of the communications department at Fordham University.
Unfortunately for the company, at this point in the rumor-hype cycle,"anything short of the sale of Facebook to Google, or purchase ofTwitter by Facebook, will be anticlimactic," he told TechNewsWorld.
"Better integration into mobile, increased privacy controls, responseto The Social Network movie — have all been heard before. Even aFacebook phone would not be Earth-shattering — we've already been thatroute through the highly successful Android," Levinson said.
There is one other possibility that has not been discussed but that does haveEarth-shattering potential: Facebook announces it will chargefor access. "But that's never going to happen," he said.