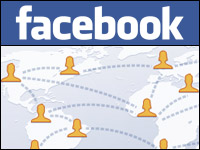 In most respects, the numbers reflecting the state of organ donation in the U.S. paint a grim picture. There are 114,183 people waiting for an organ — 18 of whom will die each day, according to the U.S. Department of Health and Human Services webpage OrganDonar.gov. Facebook has now added another number to the mix: 900 million — its user base.
In a new initiative, Facebook is encouraging its users to share their organ donor status. Updates about this status will appear on users' Timelines and in their profiles. The point of this push, Facebook CEO Mark Zuckerberg and COO Sheryl Sandberg wrote in a blog post, is that it will raise awareness of the issue.
To add an update, users go to their Timeline, then click on "Life Event." Then they click on "Health & Wellness" and then "Organ Donor."
There are prompts to add where and when users are registered, as well as a field to enter a personal story. There are also links to appropriate registries for users who haven't signed up yet.
Social Media Driver
There is every reason to agree to think this initiative will meet, at a minimum, its stated goal of raising awareness, David Johnson, principal with Strategic Vision, told TechNewsWorld.
"People respond now to Facebook more than they do to traditional means of advertising. In most marketing campaigns — including, increasingly, campaigns by not-for-profits — a Facebook element is considered essential," he said.
The reason for this has been dissected, discussed and analyzed intensely over the years. Despite Google's attempts to dislodge Facebook from its perch as the premier social network, it is without a doubt the top site.
"Facebook is where people go to read news, to find out what is happening with friends and family, to do product research," Johnson said.
Getting Ready for an IPO
Of course, the question arises, what's in it for Facebook? It is hard to imagine Facebook's founders being so callous as to not appreciate the good such an initiative can do.
"Almost everyone has either known someone in their family or in their circle of friends who has needed an organ transplant," Johnson said.
It is equally difficult to imagine that the founders are unaware of what such an initiative could mean for Facebook as a public company, he added. Facebook is reportedly going to launch its IPO this month.
The organ donation initiative, Johnson said, "presents a friendly face to investors — retail investors, especially. It can only help drive up the price of Facebook's stock."