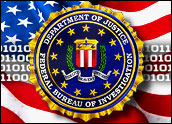 The Federal Bureau of Investigation has initiated a nationwide sweep targeting the hacking group "Anonymous." Armed with some 30 to 40 subpoenas, the FBI raided homes in New York, New Jersey, California and Florida, arresting at least 16 suspects, according to FoxNews, which first reported the story.
"Yes, a number of law enforcement actions have taken place throughout the U.S. today," FBI spokesperson Bill Carter told TechNewsWorld, but he declined to comment further, saying the court documents were still under seal.
The Department of Justice is preparing a statement about the day's events, he said.
If the individuals arrested are indeed members of the notorious group, the takedown can be considered a victory for the FBI. The group has teamed up with another hacking group, LulzSec, to wage war on governments, in part by hacking into systems and posting sensitive materials online.
The groups are said to be very unstructured and widely dispersed in an effort to avoid law enforcement operations.
Symbolic Move
More than likely, though, the FBI's victory will be at best a symbolic one. It is hard to imagine that the FBI nabbed anyone of importance in Anonymous, Paul Moriarty, CEO of Umbra Data, told TechNewsWorld.
"These groups have a core cadre of experts that are excellent at covering their tracks. The rest are hanger-ons, or back in the day, what we called script kiddies," he said.
Such people may be involved at the periphery with only a hazy notion of what the group is really doing — most likely enticed by its romantic rhetoric against government tyranny.
Still, the takedown is unusual in that this type of action is relatively rare, added Moriarty. Usually, hacking activities take place beyond the reach of U.S. law enforcement in emerging nations where enforcement is slack, he said. "People know the FBI is good at tracking down such activity, and they will, without a doubt, arrest you."
In that respect, the takedown might have a tangible impact if these so-called script kiddies read about the arrests and become fearful they will be next.
"I do think there will be some kind of deterrent effect, but only at the margins where people were careless about security, Moriarty said.
No Such Thing as Anonymity
Only an amateur would have been caught up in the FBI's net, said Robert Siciliano, CEO of IDTheftSecurity.com.
"Just as there is no such thing as 100 percent security, arguably there is no such thing as 100 percent anonymity on the Web," he told TechNewsWorld.
"Most anonymity tools start at some traceable point," he said. However, "it is generally some level of human error responsible for exposing the wrongdoer as a result of so many data trails needing covering."
The raids might have a deterrect effect, he allowed — but the popularity and mystique of Anonymous will ensure that there are replacements for the people caught in the raid.
"Someone somewhere will adopt the brand to carry on towards whatever goal it is they are trying to accomplish," he surmised.