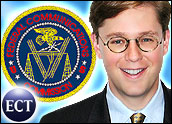 Although it may agree with the hands-off approach to Internet services that telecom giant SBC was petitioning for in its request, the Federal Communications Commission (FCC) rejected the firm's proposal to limit Internet services regulation this week, indicating it is too soon to forbear on rules that are still taking shape.
FCC Chairman Kevin Martin, who has indicated the commission may force voice over Internet protocol (VoIP) services to be capable of emergency 911 calls, said the request from SBC was rejected on procedural grounds since the rules governing VoIP and other Internet services have not yet been set. Still, Martin indicated the FCC was leaning toward the hands-off approach SBC was lobbying for, but on a different schedule.
"The removal of legacy regulations should spur investment and the deployment of new, packetized networks and facilities that will bring new broadband services to all Americans throughout the nation," Martin said in a statement.
May or May Not Apply
In its petition, SBC was requesting a lifting of "carrier requirements" — mainly offering wholesale-priced access to infrastructure — for its delivery of Internet services, such as VoIP and video over Internet protocol.
The FCC indicated while the issue is high on its agenda and it is seeking to promote broadband growth and services, the rules that govern Internet services are still being created and to agree to a lifting of future, as yet uncertain rules, would be imprudent.
"Although, by today's action, we deny SBC's forbearance petition on procedural grounds, I believe that the issues presented by this petition are important ones that require the commission's attention," Martin said. "In the instant item, the commission concluded that we were unable to forbear from Title II requirements that 'may or may not' apply to IP platform services."
Too Soon, In Time
Ovum research director Jan Dawson told TechNewsWorld the FCC is holding off on its decisions for VoIP and other broadband services to allow the rules to take shape and also to allow court cases — such as suits brought against VoIP operators for lack of 911 service and notification — to play out.
"I think what's happening here is the FCC has said, look, it's too early for us to make a decision," Dawson said. "The FCC is saying, 'We don't have any rules in this area, yet. We can't say we can forbear on rules we don't have yet.'"
Nevertheless, Dawson said it is only a matter of time before the FCC, which has indicated a desire to level the playing field by lifting the carrier rules in question for Internet services, does so, despite the misgivings of cable operators who have an advantage with the rules and their own voice offerings.
Avoiding an Overturn
Dawson also said while former FCC Chairman Michael Powell was more decisive with forceful decisions, Martin is proving more unpredictable as he has sided with both Democrats and Republicans on the commission, and has also taken what appears to be more of a consensus approach.
Dawson, who added the FCC is likely looking to avoid its rules being challenged and overturned in court, said the other phone companies — Verizon, BellSouth, and Qwest — are behind SBC and its efforts. VoIP and other companies, however, may be for or against the lifting of carrier requirements depending on their partnerships and business model. As they have sought to keep regulators from imposing rules, the local phone companies have recently initiated efforts to extend and improve emergency 911 service for VoIP companies.
Mixed Signals
At the same time the FCC rejected SBC's petition, there were reports Chairman Martin was circulating his plan to require the emergency calling capabilities for VoIP operators, who would have to cease operations if they could not. However, there is no word of a deadline for the requirement, despite pleas from Qwest and others in the industry that a clear signal on the issue is needed.
Gartner regulatory analyst Ron Cowles told TechNewsWorld that while the government has signaled it will require the 911 service, it has been unclear about how and when companies must comply.
"The government wants the industry to do it and they're reluctant to take it a step further, but they can't leave it alone," he said. "On one hand, the FCC is a bit remiss for not giving more direction, because just prodding continues to be just prodding."