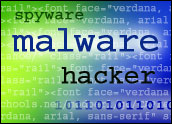 Spyware has surpassed viruses as the number one threat facing your computer today. In fact, most estimates report that 90 percent of computers already have been infiltrated by spyware, which is the name given to any program that installs itself on your hard drive, collects personal information about you and your computer habits, then sends it to a third party without your knowledge.
Spyware gets into your system in several ways. It can come bundled with another program and automatically install along with the other software. Spyware also can get a foothold on your system through the advertising used in some free software, such as peer-to-peer programs like Morpheus and Kazaa. This type of spyware is known as adware.
Another method of entry occurs when you visit certain Web sites that install spyware cookies on your hard drive. While many cookies are completely harmless, others function like adware and gather details about the sites you visit. Also, a malicious person can intentionally install spyware on your computer. These programs, called keyloggers, record every site you visit, every e-mail you send and every chat conversation you carry on.
For the average user, any of these spyware variants would be hard to detect and even more difficult to remove. Many users have begun to turn to spyware detection-and-removal programs to protect their privacy and their systems. Spyware detection can be challenging, in part because new versions of spyware are always being released.
Eliminating spyware requires constant monitoring and updating, but there are several reputable tools that will do this automatically and for free.
Lavasoft's Ad-Aware 6
Pull the plug on adware and spyware with the latest version of Lavasoft's freeware tool, called Ad-aware (download). Ad-aware scans your system — including removable drives — for the most common types of advertising spyware and safely removes offending software. Currently, the utility detects small spyware programs from many common offenders.
The latest version of the software features a slick user interface as well as safeguards for users who may be overzealous in removing adware or spyware components. Because many advertising-supported programs will not function if you remove their ad modules, you might occasionally want to overrule an earlier decision to remove one of these components.
The latest release addresses this problem in two ways: It stores adware components in your Recycle Bin, where you can later retrieve them; and it provides a backup archive viewer for reviewing — and, if necessary, restoring — components you've removed. One other good feature in this latest release: It lets you search for new reference files automatically when Ad-aware is started, which means Ad-aware can keep itself up to date for free.
Spybot Search and Destroy
Another popular free tool is Patrick Kolla's SpyBot Search and Destroy (download). With it, you can search your hard disk for so-called spybots or adbots, the modules that are responsible for showing ads and transmitting information back to vendors. If Spybot Search and Destroy finds such modules, it will remove them or replace them with empty dummies.
In most cases, the host software — like Morpheus or Kazaa — will still run after removing the adbots. Among the adbots Spybot targets are Aureate, Comet Cursors, Gator, GoHip, Radiate, WebHancer and WildTangent.
Spybot also removes your usage tracks — including last-visited Web sites, opened files, started programs and cookies — so even spybots that are unknown can't transmit this private information. The program supports three major browsers: Internet Explorer, Netscape Communicator and Opera.
X-Cleaner Freeware Version 2004
Unlike viruses, which can operate from anywhere on your system, spyware needs to hook into your Windows registry to do its dirty deeds. X-Cleaner (download), published by XBlock.com Privacy Software, knows the hooks spyware uses and where to look for them.
X-Cleaner does not scan your entire hard disk — which can take hours — but zeroes in on the locations used by the spyware. This way, detection can happen very quickly.
For general cleaning options, the software uses low-level calls to Windows to clear and cache the required information in memory. These techniques, combined with optimized 32-bit code, make the software one of the fastest programs in the spyware-busting category.
WebRoot's SpySweeper
Spy Sweeper, published by WebRoot Software, is an award-winning utility that can effectively detect and remove spyware from your PC to protect you from identity theft, browser hijackers, hackers, keyloggers and Trojans. This software is not freeware, but the company does offer a trial version that will work for a full month. Beyond that, the company charges US$29.95 for the software, which is updated regularly to find new spyware threats or adware modules.
Spy Sweeper scans your entire system using an evolving database of thousands of known spyware threats. You can perform a scan manually or schedule regular scans. Spy Sweeper owners are regularly prompted to download updated spyware definitions to ensure up-to-date protection from new threats, which emerge daily.
If any files or traces of spyware match the threat definitions database, Spy Sweeper immediately quarantines them. Quarantining disables spyware functionality for immediate protection while giving you the option to review and permanently delete suspect files or safely restore them if they are essential to the operation of desirable applications. Spy Sweeper proactively monitors and protects your system memory, home page and new cookie additions for added peace of mind.
Trojan Guarder Golden Version 5.0
Trojan Guarder is a variant of the spyware-busting utility. It looks specifically for Trojans to eliminate them from your system. The software is not free, but the company does offer a trial version.
Even if you have an antivirus system and firewall, you still are not safe from Trojans, which could be recording all your passwords and credit card numbers without your knowledge. At its basic level, a Trojan can record every key pressed on the keyboard together with the username and password when you access any computer network. Trojans also can listen on certain Windows ports, giving hackers complete access to your system through the open back door.
Trojan Guarder's system is called Guard Ghost. It supervises all running processes in memory, Windows files and open ports to search for worms and Trojan horses. Once a Trojan or worm appears, even if it hides in other programs, Trojan Guarder will display a signal for warning and eliminate it.
Meanwhile, Trojan Guarder also will clear all Trojan-linked files as well as related registered files.