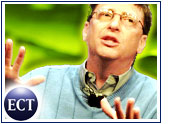 In his 20th annual Comdex Las Vegas keynote address, Microsoft chairman and chief software architect Bill Gates outlined the company's vision for seamless computing, a framework for software innovation that the company hopes will address many of the fundamental issues computer users face today.
In his keynote, Gates said seamless computing will unlock the value of computing and make smart devices, software and services work as a coordinated whole. Illustrating the fundamental software breakthroughs that are transforming the computing experience today, Gates showcased Microsoft SmartScreen Technology, an antispam filtering technology that will help guard users' inboxes from unwanted e-mail.
Gates also demonstrated a new version of Microsoft's next-generation Internet Security and Acceleration (ISA) server — an application-layer filtering security technology designed to help organizations protect their networks from malicious attacks — and showcased the network management and patching capabilities of the newly launched Microsoft Systems Management Server (SMS) 2003.
Continued Advances
During his presentation, Gates said that continued advances in processing power, storage, graphics and Web services are sparking a new era of growth in the technology industry, particularly as developers take advantage of these capabilities to create new software that mirrors the way the real world works and transcends the boundaries between people and the technology they use.
Noting that computers and software are an increasingly significant and essential part of life in the "digital decade," Gates made the case for continued industry innovation around a vision for seamless computing. The next big opportunity for the technology industry, he said, is to create software that transcends boundaries between different devices, applications, services and networks.
Gates stressed the importance of achieving fundamental software breakthroughs in the areas of connected systems, information-driven software, rich user interfaces and new experiences.
"We're entering an era when software is no longer as constrained by the capabilities of hardware," said Gates. "Our industry is now in a position to deliver on seamless computing — a new wave of software breakthroughs that will enrich personal and business connections, help groups work better together and adapt to the way people want to work."
Showcasing Developments
Illustrating some of the software breakthroughs on the path to seamless computing, Gates showcased the capabilities of Windows Server 2003, including an integrated application server, Web services support and new tools for information workers, including Windows SharePoint Services and Windows Rights Management Services.
Gates also demonstrated developments in Microsoft Office applications, including Office OneNote 2003, a note-taking program that provides users with a new way to capture, share and reuse their notes, and Office InfoPath 2003, a new information-gathering program that offers dynamic forms designed to help simplify business processes.
According to Gates, Microsoft Office 2003 has met with strong response from customers, with initial retail sales doubling that of Office XP. In addition, the number of business customers that already have purchased rights to install Microsoft Office 2003 through volume licensing, according to Gates, is about twice the number of customers that had purchased rights to install Microsoft Office XP when it was launched.
Gates continued his presentation by announcing the next version of the Microsoft Windows XP Tablet PC operating system, which will become available in the first half of 2004 and will be free for Tablet PC customers. Gates noted that Tablet PCs are finding increasing adoption as a mainstream laptop PC replacement in a wide range of businesses. He also announced three new Tablet PCs from Gateway, Toshiba and ViewSonic.
Connected Software
Demonstrating the growing benefits of connected software, Gates showed how the capabilities of Visual Studio .NET and broad XML support across all Microsoft products are helping developers create new kinds of seamlessly connected applications and services.
Gates noted that this kind of programmability and flexibility is moving on to the client, with support for advanced networking and Web services, managed APIs, rich user interfaces and a new file system in the next-generation Windows client, code-named Longhorn. "Along with a new generation of applications, we believe that Longhorn PCs will be at the center of the seamless computing experience for most consumers and information workers," Gates said.
Showcasing some of the results of the company's US$6.8 billion investment in research and development this fiscal year, Gates demonstrated an advanced search technology project from Microsoft Research, code-named "Stuff I've Seen," which explores ways to provide a single user interface to retrieve diverse kinds of information on a PC dynamically — such as e-mail, Web browsing history, Office documents and other file types.
Putting Fundamentals First
Gates also emphasized the importance of an industry-wide commitment to addressing the fundamental challenges associated with reliability, security, performance, manageability and ease of use. He unveiled Microsoft's new spam-filtering technology, called SmartScreen. Noting that more than half of e-mail sent today is spam, Gates emphasized the need for an innovative solution to reduce unwanted e-mail.
SmartScreen Technology, implemented in Outlook 2003, MSN and Hotmail, uses a machine-learning approach that assigns a probability score to each incoming message based on user feedback. Gates also announced that SmartScreen Technology will power the newly announced Microsoft Exchange Intelligent Message Filter (IMF), an add-on for Microsoft Exchange Server 2003.
He emphasized Microsoft's focus on improving software quality and addressing patch-management complexities. He demonstrated ISA Server 2004, which will deliver new levels of application layer security and simplified management for virtual private networking (VPN), firewalls and Web caching. The software, which will be available for public beta in early 2004, can be used on its own or to augment existing security infrastructures.
Gates also demonstrated the management and patching capabilities of Microsoft Systems Management Server 2003, which was introduced last week. In addition to its application deployment and inventory-management capabilities, SMS 2003 is designed to help large enterprises gain awareness of the patch level of all machines in a network and deploy new patches to all machines that need them.
Gates noted that Microsoft's own deployment of SMS 2003 helped the company achieve 100 percent patch compliance for 110,000 systems in just eight hours.
Security Top Priority
Gates also outlined forthcoming safety technologies, including a set of security enhancements for Windows XP Service Pack 2 and Windows Server 2003 Service Pack 1 that will be delivered to customers in 2003, and discussed extended support options for previous releases of Windows.
"Security continues to be a top priority for Microsoft. We are totally focused on creating more secure software and providing tools and technologies that can be easily and quickly deployed to help win the war against malicious code," Gates said. "Today's announcements are a major step toward achieving that."
Gates concluded his presentation with an optimistic view of the PC industry, noting that the software breakthroughs of today are laying the foundation for a transformation in computing that is as dramatic as the move from text-based interfaces to the graphical user interface. He highlighted the industry's opportunity to grow by delivering a new generation of software that increases productivity and efficiency, enables new communication and entertainment experiences, and rewires how companies do business.
"Our vision for seamless computing is both revolutionary and evolutionary," he said. "The changes users will see in the technology they use will be gradual, but the difference between the computing experience of today and the experiences that will be possible a few years from now will be like night and day."