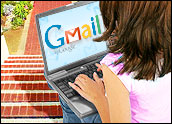 Google is ratcheting up the sophistication of its messaging and collaboration applications by adding voice and video chat to Gmail.
The enhancement is in part a tactical play — Google would like to scoop up more video users among its enterprise customer base, according to Rajen Sheth, Google senior product manager. However, it is also part of a larger strategic move on the part of Google which aims to press along all points of the enterprise in order to make as many inroads as possible. "That is where we are moving now — adding more and more functionality to make our products enterprise-ready, both with Gmail and Google Apps," Sheth told TechNewsWorld.
Google has been incrementally improving the functionality of its product suite on a near monthly basis since it rolled out. "We included a Google Talk chat component in Gmail a few years ago and found the move from e-mail communication to real time communication very popular."
At the same time, Google also routinely pushes innovation several steps forward with some products — as it did with this particular roll-out, he said. "This is a significant upgrade to the Web mail experience. Video chat goes beyond what basic messaging and collaboration apps can deliver, even for the enterprise."
Free Voice and Video
However, the offering's price point — zilch — is most likely to immediately appeal to Gmail's primary user base: consumers. Users click on the new video option in the Gmail chat menu, and a full-screen or pop-out window appears — the size and positioning depends on user preference. Gmailers can also use the new service without video; in other words, chat and e-mail sessions can be conducted with voice-only functionality.
Either way, the service is bound to expand Gmail's footprint among consumers and companies, Peter Cohan, principal with Peter Cohan & Associates, told TechNewsWorld. "Of course, Google's motives are no secret; it has been steadily building towards dominating our Internet lives." As the Internet has evolved to incorporate video and voice in online communications, it is only natural that Google stays on top of that trend, he said.
Enterprise-Bound
Surprisingly, there has not been a surge of adoption for online video services among corporations, Sheth said. That is due in large part to the expense and complexity of these applications. This, of course, is where Google enters, especially now as industries tighten spending of all sorts, including travel and new IT investment.
This general reluctance to move to video chat may be poised to change. The economy is going to be a factor, as well as the developing ease of use these applications feature. "The reality is now more and more computers include video cams and microphones; so do laptops. In fact, the webcam market is more than quadrupling right now."
Rolling Out Functionality
Given that this is Google, it's unlikely this is the company's last say on the issue of must-have functionality in a messaging package. "We will continue to develop features that users tell us they want," Sheth said. For instance, earlier this year, the company released Gmail Labs, on which it's pinning high hopes, he said.
Gmail Labs lets users select and test new features Google engineers are developing for the e-mail program. Besides the novelty of the offerings for users, the application gives Google a glimpse into what is most popular among its hardcore users. To enable it, users must select the Labs tab in the Settings page for Gmail.
"We are seeing a strong interest among businesses to move all sorts of features and functions into the cloud," Sheth said, "and this will help accelerate that."