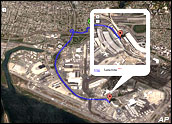 The government of India has asked Google to blur sensitive images of its military bases and buildings that can be seen with its mapping application, Google Earth — a source of concern to top Indian officials since at least 2005.
Google has reportedly agreed to show fuzzy, low-resolution pictures of certain building installations after talks with the officials.
India is not alone in its concerns. Over the last few years, the search engine has received various requestsfrom other governments for similar considerations.
False Protection
Google has largely complied with these requests. Yet as imaging technology becomes more and more prevalent, it is likely that abiding by them will do little good.
"Since the technology to create such images already exists, blurring them on Google Earth is unnecessary and it would give a sense of false protection," Dorota Huizinga, associate dean of the College of Engineering and Computer Science at California State University, Fullerton, told TechNewsWorld.
"If Google has it (an image), then the intelligence [offices] of many countries probably have something much better," she continued. "I think that the governments are better off accepting the fact the technology can be very intrusive, and that they should take protective measures to minimize potential negative impacts of these technologies, instead of asking Google to blur images."
What Should Be Blurred?
The existence of these images also poses an interesting quandary for concerned governments.
"They have to identify which buildings are sensitive and must be blurred," Matt Booth, senior vice president and program director of interactive local media for the Kelsey Group, told TechNewsWorld.
Google, as well, has to weigh certain issues. On one hand, it does not want to be an unwitting tool for terrorists; on the other, fulfilling these one-off changes to the Google Earth product will increase the maintenance costs of offering these products, Booth pointed out. More than likely though, Google will err on the side of security.
The decision, however, may be out of Google's hands to a certain extent.
Satellite imaging is now a mainstream consumer product, Booth noted. "CNN, Fox, BSkyB (British Sky Broadcasting) and nearly all large broadcasters routinely use Google Earth in news segments.
"I would expect that as imaging technology improves and grows in usage, we'll start to see more of these types of requests."
Holding Back the Flood
Google Earth has been downloaded more than 100 million times. Also, the search engine provider continually refines its popular application.
Late last year, for instance, the NASA Ames Research Center and Google signed a Space Act Agreement to collaborate on a variety of technical problems ranging from large-scale data management and massively distributed computing to human-computer interfaces.
The first project to be tackled will be making some of NASA's data available on the Internet. Weather visualization and forecasting, high-resolution 3-D maps of the moon and Mars, and real-time tracking of the international space station and the space shuttle are other projects the duo may consider.
Including Linux
Also last year, Google rolled out Google Earth in a Linux version that includes language capabilities inFrench, Italian, German and Spanish. Meanwhile, competitors are honing their own offerings.
Last year, for instance, Microsoft incorporated an online mapping interface to its Live Search offering. Called "Virtual Earth 3D," the application compiles photos of cities and terrains that are textured 3-D models generated at engineering-level accuracy.
These applications have become essential tools for developers, city planners and architects. Both Google and Microsoft offer map APIs (application programming interface) that allow developers to customize the application.
The result has been a plethora of new uses developed for the mapping technology by both individuals and companies, ranging from online games to animal migration patterns to tourism-related operations.