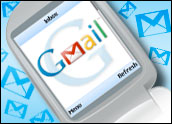 Google has upgraded its Gmail offering by augmenting it with IMAP, or Internet Message Access Protocol. Essentially, this level of connectivity allows users to access e-mail from multiple devices while keeping that information simultaneously synced no matter which device or desktop was used to access it.
POP3 (Post Office Protocol 3), the most recent e-mail client server standard, is similar to IMAP but lacks one critical feature, David Murray, Google associate product manager, wrote in Gmail's official blog. "Your changes made on other devices aren't seen in Gmail when you log back in."
Instead, he continued, "you are presented with a list of unread mail, and you must reread and re-sort everything. For this reason, as soon as I started at Google, IMAP was one of the first things I asked about." The new function will be introduced to users as fast as possible on a rolling basis over the next few days, he said.
More Interactive
IMAP adds an element of interactivity to Gmail that has been missing, Michael Boland, senior analyst at the Kelsey Group told TechNewsWorld. "You could always get Gmail through Outlook and, more recently, on an iPhone," he said. "The difference with IMAP is that it is in constant, real-time communication with the server, which is a great benefit if you are switching back and forth between devices." In such a scenario, he said, using POP3, one would end up with a slightly different message thread, depending on what was sent from which device.
"It is very useful for business travelers, for example," he said. For that reason, the new functionality should also add to Gmail's legitimacy among business users, Boland continued.
More Stickiness
Ultimately, though, IMAP connectivity is just one small piece of additional functionality in Gmail. However, as Google continues to enhance its free services — other recently added features include Gmail collaborative video, increased attachment capacity to 20 MB and the ability to check e-mail from other accounts and to get mail online — it increases its stickiness with users — which is entirely the point, Boland said.
"Like many Google products, Gmail is consumer-centric. Google wants as many people as possible to use it and its other products as well such as Google Maps, Google Search and Google Talk. It wants to be pervasive throughout the online search experience in order to monetize it."
Google's MO thus can be summed up: Bring more and more users in. Keep them happy with new features. Match them with contextually relevant advertising opportunities. Wash. Rinse. Repeat.