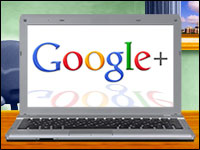 New figures from comScore echo what many Google+ critics have been saying for the past few months. Google+ seems to be good at signing up users for its network, in large part due to its strategy of integrating its other products to the network. However, these users, which now number 90 million, don't stick around to actually use the network, according to the data. Where are they? At Facebook and, to a lesser extent, Twitter and even Pinterest.
ComScore found that between September and January, visitors accessing Google's social network were spending an average of three minutes a month on Google+. Facebook, of course, is renown for its heavy and sticky engagement — users devoted six to seven hours a month on that site over the same time period. The figures were first published in The Wall Street Journal.
Google, not surprisingly, does not hold much stock with the figures.
Google+ is much more than a destination site, which makes it exceedingly hard for any third-party research firm to monitor or measure its performance, Google said in a statement provided by spokesperson Katie Watson.
"Google thinks about the service not as a site but as a deepening of its relationship to billions of existing users who are already committed to Google's services like search, YouTube, Android, etc." the statement reads. "By this measure, engagement is already enormous."
Brand Interaction
This lack of engagement has been noticed by brands, Gabe Donnini, Data Solutions Engineer at Chitika, told TechNewsWorld.
"Everyone knows Google+ does a great job of signing up users, but the major difference between Google+ and Facebook is brand interaction," he said. "While integration across platforms has been hugely successful in achieving sign-up, many of these accounts remain inactive."
One end result, he said, is that on Facebook, when brands reach out to their audiences they see thousands of likes and comments, versus a few dozen on Google+ — "which is hugely indicative of ROI in terms of user engagement."
Party at Facebook
The problem for Google, of course, is that people are still wedded to their Facebook lives, Greg Sterling, principal with Sterling Market Intelligence, told TechNewsWorld.
They are also trying out novel sites such as Pinterest.
"Right now people don't have a real reason to use Google+," he said. "At first they were curious, or they were prompted by Google to sign up, so they did. But they don't have a reason to continue to use it."
"People don't have a reason to move out of their Facebook comfort zone," Donnini said.
Not that it's all over for Google+, Sterling said. The social network introduced novel features such as Hangouts and Circles that still intrigue many users, as well as brands.
For example, Ford recently debuted a new commercial for the Mustang on Hangouts last week in order to be able to receive real-time feedback.
"A lot will depend on what Google does with Google+," Sterling said. "It does have the potential to be a serious contender to Facebook," if only because of its 90 million user base and integration of the network with other Google products, including search.
Social Network Saturation
Still, no amount of product integration or user sign-ups will help if the social networking market has no room for expansion — that is, if people just don't have the time and appetite for yet another social network.
There might be a little bit of that happening now with Google+, Donnini said.
"Despite the company's investment during Super Bowl, the excitement generated by Google+ advertising is not carrying over to actual use of the platform," he explained. "One problem is that the social network market as a whole is reaching a saturation point. This is even visible in some of Facebook's latest user data, which shows a plateau of growth in the U.S. but still growth in emerging markets."