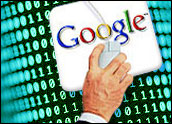 Simplicity has been an important element in Google's success in the online search world. However, as the company has grown and attempted myriad forays into new ways of finding and presenting information — images, video, news, maps, etc. — it has created "silos," perhaps threatening that very simplicity.
This week's announcement that Google is taking "its critical first steps toward a universal search model" is an effort by the company to return to those simple roots, in a sense. The new universal search and updated homepage design will instantly present searchers with the most relevant results across all of the silos probed by Google's computers.
"Our focus has always been making our users' search experience as simple and straightforward as possible," said Marissa Mayer, vice president of search products and user experience at Google. "The ultimate goal of universal search is to break down the silos of information that exist on the Web and provide the very best answer every time a user enters a query."
Multi-Modal
In other words, from now on, expect more than just Web pages when you ask Google to find information about a subject. Web sites will still be searched and found, but the results page is also likely to offer up a news report, an image, a video clip and a link to a book on the topic.
As is often the case with efforts to simplify the complex, Google engineers faced a difficult task when asked to implement universal search, said company insiders.
"Finding the best answer across multiple content types is a well-known hard problem in the search field," Google staffers David Bailey and Johanna Wright wrote on The Official Google Blog. "Besides that, we wondered if we had become too big a company to pull off a project this complex."
Give It Some Time
Google advised its users the new model is being phased in gradually. "At first, the universal search results may be subtle," it said. "Over time users will recognize additional types of content integrated into their search results as the company advances toward delivering a truly comprehensive search experience."
To handle the intensive computing necessary to simultaneously search and deliver results from all its different reservoirs of information, Google is "deploying a new technical infrastructure." It is also upgrading its "ranking mechanism," which uses secret algorithms to determine which pieces of information are most relevant to the search word, the company said.
Searching for an Edge
Google's new model is an effort to stay ahead of the competition, contends Did-it.com founder and CEO Kevin Lee.
"I think it's really an extension of that continued drive for relevance," Lee told TechNewsWorld. "They recognize that, unlike their early years where they were really leaps and bounds ahead of the competition, the competition now is right at their heels. This is really a way to further improve the relevance of their results because by mixing multiple silos of content together, as well as providing guidance into the other silos that have content, they're improving the user experience and relevance."
Lee — whose company focuses on search-based marketing — and others in his industry hope Google might be melding its silos as the first step in monetizing them, he noted.
"I think the drive toward relevance will potentially improve the advertising relevance as well," he said. "Currently they are not monetizing the other tabs. There are no ads on news, image, music, video or blogs. But it wouldn't surprise me to see them, along with this (universal search) start putting ads on those secondary tabs. That's what we look forward to: the next phase where we may start to see some integration of ads into those other tabs."