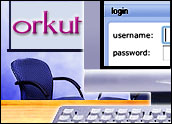 Google has announced that it will comply with a Brazilian court's order to turn over data that couldidentify users of its social networking site, Orkut, who are suspected of illegal activities such as child pornography.
A Brazilian judge hearing the case had threatened to levy a US$23,000 fine for each day Google refused to comply.
Differing Views
Google cooperated with some of the initial requests by the Public Attorney's Office, but declined to hand over other information, arguing that since the data is based in servers located in the United States, the Brazilian government should go through the U.S. court system to get it.
The judge hearing the case rejected that point of view. However, the argument might have held water in the U.S. court system, said Chip Babcock, a partner with Jackson Walker in Houston and Dallas, and a specialist in First Amendment issues.
Judges have found in several cases that jurisdiction is governed by where the information in question resides. Such precedents, of course, hold little sway in foreign courts.
"If you are going to do business in a foreign country you will be subject to its laws for better or worse," Babcock told TechNewsWorld. "Not every country views these issues as we do."
U.S. courts are highly protective of the concept of free speech, for instance, he noted. Some other countries do not give as much weight to this issue.
The China Factor
Over the past year, search engine providers have challenged various governments' requests for data withdifferent degrees of success.
Google resisted a U.S. Justice Department subpoena seeking search term data and was partially supported by a court decision. In China, both Yahoo and Google complied with government requests for user information — requests that were incompliance with local law, they said.
China used the information to arrest at least one individual, prompting an outcry against the companies in the United States.
As more such incidents occur — few governments are likely to resist the gold mine of data available to them via search engines' servers — the debate over how much, if any, user data search engines should retain will likely intensify.
This has been a hot topic among privacy advocates and in the blogosphere in general.
Awareness is growing among Internet users that they are at risk, not only from government intrusion — a view that Google itself holds — but also from search engines that are careless with consumer privacy.