Governments around the world peppered Google with 21,389 information requests on about 33,634 users from July through December 2012. That represents a 2 percent year-over-year increase, according to Google's latest Transparency Report, released this week. The U.S. led the barrage, with 8,476 requests for information — a 6 percent year-over-year increase.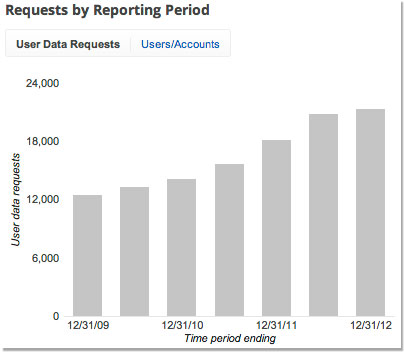 Google made a point of noting that user data requests have been steadily increasing — they're up by more than 70 percent since 2009. It began releasing its Transparency Report in 2010.
Google introduced a new feature with this latest report: visualizations of the overall trends, including the growth in requests.
In another first, Google broke down the legal processes used when the U.S government requested user data.
Subpoenas top the list; 68 percent of the requests Google received from the U.S. government were through subpoenas. Issued under the Electronic Communications Privacy Act, subpoenas are easy to get — typically, the process doesn't involve judges.
Twenty-two percent of requests came through ECPA search warrants. The remaining 10 percent came via court orders issued under ECPA by judges, or through other processes that aren't easily categorized.
Reforming the ECPA
Google is straightforward in explaining why it has been releasing this information: It maintains it is important for people to understand how government actions affect them.
There are other likely motivations, though — such as reforming the Electronic Communications Privacy Act, the channel through which the government is able to request this information.
"Google and all leading-edge Internet companies are big supporters of a thorough reform to ECPA," Luis Salazar, partner at Salazar Jackson, told TechNewsWorld.
"They are bombarded with requests from the government, and it is in their interest to have that reform so they can gain some certainty about when to turn over that information," he pointed out.
The way the ECPA stands now, the regulations are confusing and tilt in favor of the government, Salazar said.
"The Transparency Reports are hoping to make that point to public," he noted. "A lot of people are not aware of how easy it is for government to get emails."
If people were to dig into the report they might be surprised at its candor, Irene Etzkorn, executive director of simplification at Siegel+Gale, told TechNewsWorld. "Google describes in very plain English the reasons for the requests and why they didn't comply with certain requests."
It is telling that Google doesn't just provide an aggregate number, she added. "It seems Google is trying to tip off the public to the nature of these requests."
The graphics also emphasize this point. "The new line graphs and bar graphs indicate they want to draw attention to trend lines," Etzkorn said.
"The level of detail they are going into seems to [indicate] they are trying to tell a story rather than just provide a factual recap," she concluded.
A Changing World
An argument can be made that governments are increasing their requests for information because more information has become available.
"The volume of requests for digital information by law enforcement and other authorities around the world underscores the profound shift in emphasis from older mechanisms, such as telephone transmissions, to monitor and reveal private actions," said Rich Hanley, associate professor and director of the graduate journalism program at Quinnipiac University.
Still, it is clear that law enforcement is taking an aggressive position in seeking any information that may be remotely related to an investigation, he told TechNewsWorld.
Google is trying to feel its way across this evolving landscape, Hanley said.
It is "balancing the still-evolving right to digital privacy in informing its users of the full scale and scope of these legal demands," he explained.
"Given the speed and scale of law enforcement activity online," Hanley concluded, "Google is essentially acting as a buffer against increasing government intrusions in the private realm of online activity — and letting its users know about it."