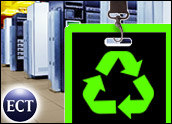 Storage vendor Fabrik has introduced an external hard drive with a manufacturing process focused on reducing its impact on the environment.
Fabrik claims its SimpleTech [re]drive is the world's most eco-friendly hard drive.
"We spent a lot of time making sure this is an authentic and genuine green product," VP of Marketing Matt McRae told TechNewsWorld.
Designed for consumers, it can be used with a Mac or PC.
Green Machines
The SimpleTech [re]drive's enclosure is made out of bamboo and 100 percent recyclable aluminum. "We sourced bamboo, because it is grown locally, to our manufacturing plants in China, which means we don't have to ship in the product," said McRae.
"Bamboo is also one of the fastest-growing plants on the planet, reaching 60 feet per year, and it requires very little water," he added.
Aluminum — the most recycled metal on the planet — transfers heat efficiently. "It draws heat away from the chassis, so we don't have to use a fan or electrical motor to cool the device," said McRae.
Among the drive's other green features:
an automatic on-off switch;
an Energy Star Level IV-qualified power adapter;
100 percent recyclable packaging — the minimum needed to ship the device safely; and
quick install instructions that are printed on the package rather than in a separate booklet.
The company will also announce an end-of-life recycling program to guide consumers in disposing of the device responsibly.
Fabrik has developed green products before, but the [re]drive pushed the limits of product design and manufacturing, McRae said.
"We took it to the Nth degree and tried to turn over every stone to make sure it was as energy-efficient and environmentally friendly as possible," he said.
Corporate Initiative
Demand for green IT devices among consumers has grown at a healthy clip for the last few years, due not only to social consciousness, but also to the growing realization that energy-saving technology is good for the pocketbook.
Now, the enterprise sector is demanding similar energy-efficient products, said Patrick Wilkison, vice president of marketing and business development for STEC. (STEC is the former parent of SimpleTech, whose storage product line was purchased by Fabrik.)
"The demands we are making on data centers are unprecedented," Wilkison told TechNewsWorld. "It is fascinating to see companies like Google setting up their centers near dams because they are exceeding the power of their grid."
IBM data show that companies are spending as much on powering and cooling IT equipment as they are on the equipment itself, Wilkison noted.
"As a result, vendors selling to these enterprises are eager to figure out ways to develop products that reduce power demand," he said.
ATEN Technology gets a lot of requests from European clients to develop eco-friendly products and packaging. "They are much more stringent with their specs," Lisa Person, sales manager with the company, told TechNewsWorld.
ATEN has responded with such simple measures as eliminating user guides — it directs customers to its Web site instead — and such complex ones as testing soy-based ink for the paper it does print.
Product design is a focus as well. "We are also looking at ways of reducing the weight, so we don't have to use such rigid packaging and it is easier to transport," Person said.