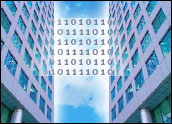 Recent events have raised questions as to whether San Francisco's municipal WiFi project will ever reach completion. The latest twists in the saga are leading some industry watchers to wonder whether the deployment of WiFi technology across a city may ever reach its full potential.
Indications both from the city and from EarthLink, which is developing the project, point to the sudden uncertainty.
EarthLink Chief Executive Rolla Huff, who joined the company after the project was already under way, recently suggested that it was no longer eager to move forward. The WiFi business model, as constituted, does not represent an acceptable return for the company, he reportedly told analysts.
Meanwhile, a committee of the San Francisco Board of Supervisors has put off a vote on a contract to fund the network.
Playing Hardball?
Much of this could just be hardball maneuvering tactics, suggested Jerry Ellig, an economist and senior research fellow at George Mason University in Virginia.
"Keep in mind that cities and network providers are continually negotiating and are not above threatening to pull the plug in order to get some kind of concession," he told TechNewsWorld.
Indeed, the delay in the city committee's vote came after EarthLink failed to respond to proposed contract changes, which reportedly included a shorter contract length, increased data speed and privacy controls.
"It is hard to know whether EarthLink's silence signals a significant change in sentiment or is part of the latest round of negotiations," Ellig said.
Huff's reference to a faulty business model, though, is telling.
Business Model Issues
Cities and private sector providers have already gone through a few iterations of the ideal model for a municipal WiFi network, and even the current one is not completely satisfactory, according to Ellig.
"In the early stage, the feeling was, 'this technology is so fantastic and cheap that cities can build it for themselves,'" he recalled. "Most cities have concluded that they cannot."
The next business model was to let private sector companies offer it cheaply in conjunction with city subsidies. However, that's not panning out either, he said, for a number of reasons, including iffy funding prospects.
The current thinking is that investors would support such a project if the city would anchor it. Indeed, Google is one backer of the San Francisco WiFi project. However, there are problems with this model too.
"It puts the cities on the hook," Ellig noted, "because if the experiment doesn't work, they will have to either admit they wasted money or provide a deeper subsidy to make it work."
It may also be that the moment for citywide WiFi has passed, he suggested. "Two years ago, it was a very viable concept, when broadband was so expensive. Now, though, you can get DSL (digital subscriber line) for less than (US)$20 per month."
Also, other providers have begun offering national wireless access — taking out of play one of the constituencies for municipal WiFi.
It is difficult to find an example of a large city that has successfully implemented WiFi in a municipal network, Ellig said. Most of the success stories center on early deployments in smaller towns such as Chaska, Minn.
Success at the End
Yet there is still some optimism that the San Francisco project — and similar projects under way in other cities — will ultimately succeed.
As of August 1, 2007, there were 415 cities and counties in the United States either in the deployment/planning phase or with networks up and running, according to Esme Vos, founder of Muniwireless.com. With the addition of cities and counties that are seriously considering municipal WiFi, that number rises to 455.
The problems in San Francisco are more political than tech-related, she maintained. "This has been perceived as the mayor's pet project. People who don't like him are going to find any reason to oppose it."
The reason smaller cities have successfully rolled out these projects is that they started earlier, Vos said. "Most were in rural areas where the only Internet access was dial-up. Wireless was the best choice, and the participants made it work."
Many of the tech issues that have bedeviled these projects — such as underestimating the number of necessary nodes — have been solved, she pointed out.
Also, more cities are taking a nuanced approach to deployment — considering strategic applications instead of a blanket application — which is also more likely to end in success.
In Corpus Christi, Texas, for example, municipal wireless provides automated meter reading to constituents. The city paid for and owns the $25 million network, built by Northrop Grumman. It also provides wireless Internet access — a service that is managed by EarthLink.