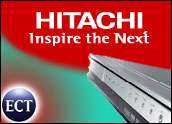 Hitachi Data Systems hopes its new universal data storage platform (USP) and software will lure customers from main competitors EMC and IBM. However, analysts indicated that the Hitachi approach might be hindered by apprehension over the company's massive, monolithic storage array.
HDS announced a "new enterprise storage lineup," which consists of the TagmaStore platform and management software for large-scale virtualization, logical partitioning and universal replication.
Industry analysts were impressed by the new enterprise storage products, but added that the products are likely to be followed by similar announcements from EMC and IBM, the other players in the highly competitive high-end storage market.
"This is leapfrogging," Forrester principal analyst Bob Zimmerman told TechNewsWorld of the HDS announcements. "This is Hitachi's turn to be the guy to announce."
Industry Change Claimed
The new HDS storage platform enables extensive virtualization, heterogeneous management and universal storage-agnostic replication, Hitachi said. The company has focused its solution on shared access to a single, massive data store, as opposed to the network approaches from rivals EMC and IBM, analysts said.
Nevertheless, HDS senior vice president of global marketing Scott Genereux touted the new TagmaStore and software as a "new category in the industry as its powerful architecture enables new levels of virtualization and replication not possible in previous generations of enterprise storage."
"It supports a new operational paradigm capable of delivering a holistic Application Optimized Storage approach across an entire enterprise," Genereux said in a statement. "The result is a new economics framework for information infrastructures, providing organizations with millions of dollars in potential cost savings."
When Big Is Best
Forrester's Zimmerman, who indicated EMC and IBM likely will answer Hitachi's announcement with their own enhanced products within weeks, said Hitachi is playing to its customers that demand the boosted capacity its new platform delivers.
"There are some applications and some operating environments where having massive amounts of data with shared access is good," Zimmerman said. "There's some applications where the simplicity of a very large, backend store is wonderful."
Adding that the different vendors all work with different effectiveness depending on operating and application demands, Zimmerman said Hitachi's technology has yet to be demonstrated fully, but will be warmly received if it lives up to billing. The analyst said Hitachi also is dependent upon HP and Sun, which were announcing their own storage products based on the HDS releases, for its North American market.
Pressure To Push
Yankee Group senior analyst Stephanie Balaouras said Hitachi, EMC and IBM seem to oscillate in and out of dominance and market share, creating pressure to continue improving and updating their high-end, high-capacity enterprise storage solutions.
"You pretty much have to be updating your platform every year," Balaouras told TechNewsWorld, adding that competitors tend to take time to answer and lose some market share in the process.
Balaouras, who said Hitachi's announcement had been long-awaited, said the new HDS platform was a relatively significant release that represented "a good step toward guaranteeing service levels," which is where the analyst said customers will likely use the new solutions first.
Acceptance Takes Time
Hitachi's approach — which differs from the Storage Area Network (SAN), storage-on-the-edge approaches from EMC and IBM — brings a big jump in capacity that is triple or quadruple the competition, according to Balaouras.
However, the analyst added that HDS migh have bee better served focusing on data consolidation and performance because there might be some reluctance to embrace virtualization wholeheartedly, at least for awhile.
"This is the storage array approach, so it bucks industry thinking," Balaouras said. "I don't know how comfortable people will be aligning all of their storage with this monolithic array. I don't think you're going to see grand-scale virtualization. It will take a long time for customers to get comfortable with it."