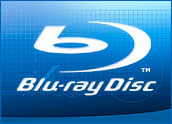 Although it was rumored three years ago that Sony would be the first consumer electronics vendor to make a Blu-ray Disc camcorder, Hitachi won the race this week when it unveiled two models.
Both units, the DZ-BD70A and the DZ-BD7HA, record about an hour's worth of 1920×1080 high definition video on 8cm Blu-ray discs. However, the "flagship" DZ-BD7HA is a hybrid model that includes a hard-drive capable of saving about four hours of 1920×1080 video or up to eight hours of 1440×1080 content, said Hitachi.
Additionally, video can be recorded in standard definition to DVD discs, said Hitachi.
The manufacturer's suggested retail price for the BD70A is about US$1,300. The hard-drive model will cost an extra $200, said Hitachi.
Lots of Goodies
The cameras come equipped with Hitachi's new 5.3 megapixel CMOS (complementary metal-oxide-semiconductor) image sensor and HD (high-definition) quality 12-element lens system. The sensor, said Hitachi, is "capable of capturing the true nature of an object by reading the pixel area at a very rapid speed," a feature that is "essential for HD video imaging." There's also image stabilization, auto or manual focus, 10X optical zoom and 500×2 digital zoom.
Both cameras also come with an SD (secure digital) card slot for storing still photographs at up to 4.32 megapixel resolution. The camcorders have the ability to capture still frames of video and save them on the memory card in 2.1 pixel resolution, Hitachi said.
The cameras feature HDMI (high-definition multimedia interface) and component video output so they can be connected directly to high-definition equipment for playback.
Versatile Variety
The combination of recording methods, especially with the hard-drive-equipped model, open a wide array of options for avid videographers, the company said. With the push of a button, those who spring for the hybrid version can copy the contents from the hard-drive to a Blu-ray disc, "a major convenience feature for on-the-go consumers who can now bypass external devices" such as personal computers, for such file transfers, said Hitachi.
It noted the cameras include easy-to-use editing functions including split, delete and connect.
The BD7HA can "transcode" high definition content on the hard drive, downgrading its quality to standard resolution for recording onto regular DVDs. The BD70A, through the use of a "finalize button" also allows owners to create standard DVDs for sharing with the less fortunate.
The format war between Blu-ray and HD-DVD continues, but Hitachi seems to believe Blu-ray will win: It said the transcoding feature allows BD7HA owners "to share home movie memories with friends and family members" who may not yet own a Blu-ray player.
Not to Be Beaten
Hitachi always strives to be the first to market with new camcorder technology, said Hitachi America product manager Jeff Fochtman.
"It was important for us to be the first to offer consumers the impressive benefits of Blu-ray disc technology," he commented. To be the first manufacturer to create two models of the world's first Blu-ray disc camcorders that shoot, play back and store HD video is a huge milestone for us and something we are exceptionally proud of.
Hitachi introduced the world's first DVD camcorder in 2000 and last year introduced the world's first hybrid camcorder with a DVD drive and a hard disk, Fochtman noted.
Hitachi noted the new units appear quite a bit different than most camcorders on the market. It said they have a "smooth-flowing, elegant and innovative design" with rounded bodies "that is particularly eye-catching, especially for consumers with an appreciation of artful aesthetics."
Part of the camcorder body is coated to protect it from scratches and keep it shiny, said Hitachi.
Will It Play in Peoria?
While the prices for the two camcorders is on par with other high-definition units, analysts are unsure about whether consumers will be willing to buy them. The technology is impressive, said technology analyst Alan Chapell of Alan Chapell Associates, but he wondered how many home-movie makers really want or need HD.
"I like the fact that the Hitachi product can burn to DVD and Blu-ray," said Chapell. "I don't know how many consumers are willing to shell out $1,200-plus for one of these when they can make videos, although of lower quality, from their cameras, phones and other devices. Why do I need HD quality when I'm just making a short film of my daughter's ice skating competition?"