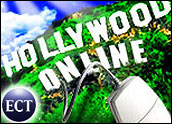 Moviegoers that happened to miss "Brokeback Mountain" when it ran in the theaters this winter get another chance on Tuesday to see the film. The movie will be among the first sold to consumers via the Internet — on the same day it is released on DVD.
Seven studios — including Universal Studios, which produced "Brokeback Mountain" — will be offering movies to download on the same day that DVDs are available through agreements inked with two online movie stores.
Movielink will be digitally distributing movies by MGM, Paramount, Sony, Twentieth Century Fox, Universal and Warner Bros., many of which are joint owners of the firm. CinemaNow is offering movies from Sony Pictures Home Entertainment, MGM and Lionsgate on a schedule that coincides with DVD-release dates.
This marks the first time Hollywood producers have agreed to license online films to be purchased — not rented for 24 hours — over the Internet. It is a significant philosophical shift in the industry; until recently, Hollywood has been quite gun shy. Studios have resisted Internet distribution after witnessing the precipitous fall of music CD sales triggered by digital music file-sharing.
Which Channel?
The service rollout will have only a marginal impact on the way movies are distributed for the time being, Todd Chanko, analyst with JupiterResearch, told TechNewsWorld.
It is the retailers that are, theoretically at least, most threatened by this move. However, the studios will be reluctant to cannibalize their retail channel networks, Chanko said, because they currently make more money through them than they do through the box office.
"At this point in time, I see direct-to-consumer digital downloads of DVD titles as being a nice, incremental market for studios. It will not be a wholesale substitution of the retail channel," Chanko declared.
Also, the demographics do not point to a major wholesale shift in consumer demand, he continued. "Right now, there are 112 million families that own TVs," a significant portion of which also own DVD players. On the other hand, with 49 million households, broadband has not made nearly the same inroads.
Also, retailers provide a very important service to the studios — whetting viewers' appetites for future releases. "Their marketing makes consumers aware of what will be available; they suggest movies to watch based on their preferences." The online movie rental sites also personalize their interactions with consumers along those lines. However, such features don't match the in-person experience in the store, Chanko said.
Down the Road
Five years from now, the landscape could be considerably different. Studios may then be releasing downloads on the same day as the box office release — which would be a major change in the way movies are distributed.
Also, the net neutrality issue — the question of whether service providers that own the Internet pipes can charge additional money to give fast access, or worse, can restrict some activities — will have an impact if movie downloads take off.
Besides the capacity issue, Chanko said, there is the question of competition. Buying movies online would eat into Comcast's on-demand movie service, for instance. "It will become a very interesting conundrum for the industry," he said.