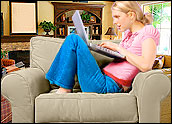 Part 1 of this two-part series takes a look at some of the early signs that a home networking revolution might be under way: how consumers are beginning to move beyond WiFi.
So far, most home networking deployments are one-off or are limited to a certain function, such as entertainment. Home networking becomes truly interesting when it is applied to all of a house's systems and its energy supply, Raoul Wijgergangs, chairman of the Z-Wave Alliance, told the E-Commerce Times.
Z-Wave is a coalition of vendors and service providers that want to deliver interoperability among different brands and applications. What that means in practical terms, Wijgergangs said, is that a Leviton light switch can speak to a GE as well as a lock from Schlage and a gateway from Hawking — as long as they all carry that Z-Wave logo."
The same remote — or smartphone or computer — can then operate them all, he said.
Mainstream Adoption
A lot of the applications are for fun or convenience — but most Z-Wave vendors' customers use the products for home monitoring, security and energy conservation. These can be installed one-off or as part of an entire system.
"There are solutions out there that when you leave your house, you [indicate] that to your cellphone," said Wijgergangs, "and the Z-Wave certified system switches off all the lights, reduces the temperature since you'll be gone, locks the doors, and programs the alarm."
It then sends a confirmation to the smartphone that all was taken care of, he said.
"This system is already selling at Lowe's and Radio Shack retailing at (US)$299 for the starter pack," he noted.
Now that the tech is moving into the mass retail channel, Wijgergangs expects adoption to really take off.
"These types of home monitoring systems have up until now only been seen in new homes or homes of the truly rich. True mass consumer adoption is imminent, though, as demand grows and prices drop," he predicted.
The desire to save on utility bills and the conservation trend will drive adoption even more, added Wijgergangs — especially when more utilities begin to take home networking into account.
This is also around the corner, he predicted.
"Rather than only the consumer controlling the devices, utilities, with the consumer's permission, will have partial access," he explained. "So, say there is a code orange one summer day. The utility can send a message to the house to kick on the air conditioner now, because later it will have to be shut off."
Still a Mirage
For many consumers, however, such a scenario may not be easy to realize. There are a number of challenges, including differing standards, different connection paths, and differences among the capabilities of service providers.
Yet progress toward the ideal is being made, albeit in fits and starts.
Z-Wave is not the only coalition of vendors. There is also the Digital Living Networking Alliance, which has some 5,000 electronic products and components certified, according to Scott Smyers, who is chairman of the DLNA board of directors and senior vice president of Sony Electronics.
The DLNA protocol makes it easy for content to be shared between home entertainment devices such as TVs, cameras, PCs and set-top boxes, among others, Smyers told TechNewsWorld.
Windows 7 could promote home networking, as the OS has several new complementary features, he noted. For example, it makes transferring digital photos to a device — say a TV, digital frame or smartphone — much easier.
Service providers are also stepping up to the realities of a networked home. Demand for wireless and networked modems — as well as inquiries about how to makes these gadgets work — have been surging at Qwest, said Travis Leo, the ISP's director of product management for high-speed Internet services.
"Customers are connecting more and more devices to the ISP … gaming consoles, security cameras, television sets, home energy monitoring systems. At the heart of that is the necessity for a heavily reliable broadband connection," Leo told TechNewsWorld.
"Home networking is a core focus when we consider new products and services," he said. "We know we can't perfect the customer experience without being aggressive in the home networking space."
Qwest's product offerings for remote home management include sensors and video cameras to control lights, temperature and certain appliances. It also offers solutions that provide home alerts for such events as water leaks, the opening of doors and windows or garage doors, and power failures.
The ISP wants to move its entire customer base to an all-wireless, networked modem system, which it will be rolling out toward the end of this year, Leo said.
Under One Umbrella
Standards are problematic. Although they are a work in progress on many levels, a push toward unification can be found.
ITU, for instance, recently approved G.hn as a standard to support, among other products, High Definition TV (HDTV) and digital Internet Protocol TV).
G.hn-compliant devices will be capable of handling high-bandwidth rich multimedia content at speeds of up to 1 Gbit/s over household wiring options, including coaxial cable and standard phone and power lines. ITU predicts that the first chipsets employing G.hn will be available in early 2010.
The point was to place all three mediums — coaxial cable and standard phone and power lines — under one umbrella, In-Stat Principal Analyst Joyce Putscher told TechNewsWorld.
However, even if it were widely adopted, it wouldn't necessarily mean that a company's products could work over all three mediums, she said. "Not all homes are constructed the same, obviously; not all homes have the same reception."
The bottom line: Consumers are dependent on their service providers — and whatever technologies, partnerships and ventures they may have entered — to connect the last mile of the deployment.