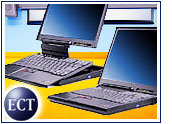 Similar to the action toys of two decades ago, prototype ThinkPad notebooks from IBM can be transformed from the traditional notebook form factor to a disconnected desktop with a more comfortable keyboard and separate monitor.
While the models, which Big Blue showed off at a trade show this week, are not yet slotted for production, they follow a trend of delivering desktop PC power in ever-popular notebook form — a winning segment for manufacturers hungry for something hot.
"All of the vendors have a dedicated line [of desktop replacement notebooks], and everyone is really doing well with it," IDC analyst Alan Promisel told TechNewsWorld.
Good Thinking
Referring to IBM's focus and allocation of resources as a way to improve usability and ergonomics, Promisel said the 10-year-old ThinkPad is well known for having a "soft keyboard" that delivers comfortable keystrokes.
The ThinkPad model, which currently offers a desktop replacement in the G line of notebooks, also has a history of delivering desktop performance instead of being a lighter and thinner mobile computer.
"What IBM has done with this design is eliminate the need to purchase an extra monitor or docking station for the notebook," Promisel said. "It lets you remold the notebook on the desk for a better computing experience."
While notebooks are accounting for more and more PC market share — a recent IDC report indicated they represented 26.5 percent of sales — they are still limited to relatively small keyboards and less-than-ideal mice.
Notebook Express
IBM indicated its intention for the prototypes is to offer desktop-like performance in addition to ease of use and ergonomic improvements, such as a separate, angled keyboard and elevated screen.
Promisel said IBM's design will eliminate some of the ergonomic hurdles for notebooks, but he stressed that price — particularly for enterprise workers in a large organization — is still the biggest hindrance to choosing notebooks over desktops.
Research firm the Yankee Group indicates that although the modular PC — a full-function mobile PC that converts to a desktop, a laptop or even a PDA or wearable computer — represents a "radical new concept in the computing market," it faces the same issues that have dogged tablet PCs, including the Sony eVilla, 3Com Audrey and IBM's own TransNote, which was discontinued by the company.
Taking Tablet Notes
"The tablet PC and modular PC, however, do pose a threat to some current home-computing devices," said a Yankee report. "Tablet and modular PCs, supported by IBM, Acer, Fujitsu, Toshiba and several other PC manufacturers, introduce dramatic style and form factors to the PC market."
Yankee Group senior analyst Dominic Ainscough told TechNewsWorld that despite the popularity of notebooks that serve as desktop replacements at home, the modular or convertible notebook is specific to certain vertical segments, such as healthcare, where processing capability is needed as much as mobility.
Promisel said IBM's convertible design, which the company said it might produce according to how much interest there is in the prototype, is an effort to make such notebooks formidable alternatives to company desktops, such as those from HP.
"They're going head to head for mainstream workers," Promisel said. "This could be a differentiating factor in large-scale manufacturer bidding wars."