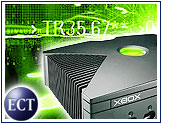 Intel lost its Xbox contract as Microsoft and IBM announced a collaborative technology agreement for the silicon of the next-generation gaming platform, making Big Blue the semiconductor provider for all three major gaming consoles, including Sony's PlayStation and Nintendo's GameCube.
Intel, however, did manage to score PC gaming wins with announcements of high-end, Pentium 4 Extreme Edition computers from major manufactures Gateway and Dell, among others.
While analysts said both the Xbox loss and the PC wins will affect bragging rights more than bottom lines, Intel's Itanium processor won a more significant victory with a new group of midrange 64-bit servers from HP, which now touts the industry's broadest Itanium line of servers.
'X' a Small Mark
The Xbox shift from Intel to IBM is not a surprise, especially considering that Intel previously won the semiconductor design deal from Microsoft "at the eleventh hour with an extremely low bid," Mercury Research president Dean McCarron told TechNewsWorld.
McCarron, who said Intel rival AMD had already won the processor design deal before Intel took it, downplayed the significance of supplying the embedded console processor.
"The profitability is not substantial," he said. "Your primary gain is more being able to brag."
With its existing relationships with Sony for PlayStation consoles and Nintendo for the GameCube, IBM now can brag that it powers all three major gaming consoles.
Big Blue's Business
McCarron said IBM is more suited to the console semiconductor segment anyway because Intel and AMD are more focused on consumer and business machines.
"For IBM, there's a much greater focus to support more of these high-end embedded chips," he said. "It's not that Intel is not going after game consoles, but that business and product requirement didn't mesh up with Intel products and prices."
According to terms of the semiconductor agreement, Microsoft has licensed leading-edge processor technology from IBM for use in future Xbox products and services. An unveiling of the new Xbox is expected from Microsoft at some point early next year.
Extreme Wins
While its technology was eliminated from the Xbox console, Intel did manage to score wins for its Pentium 4 Extreme Edition processor with several PC vendors, including Gateway and Dell, which said its Extreme-based workstations will offer performance benefits for applications such as digital content creation and 3D gaming.
Featuring clock speeds of up to 3.2 GHz, hyperthreading technology and a hefty 2-MB Level-3 cache, the Pentium 4 Extreme is in the "extremely high market," according to McCarron.
"I would not look at this as being a substantial product," he said. "It's good for them to have, and it supports the ongoing battle with AMD over performance, but this is far, far out of the mainstream."
Hardening Itanium
In addition to its Extreme news, Intel also announced it has won further endorsement of its Itanium 2 processor as HP unveiled new 64-bit Integrity servers that use the Intel technology.
IDC analyst Jean Bozman told TechNewsWorld that the Itanium-based servers now give HP a full line of servers based on Itanium, which may allow the company to push them further into the market.
"This is the first time HP has put it all together," Bozman said. "The full weight of a company as big as HP can drive more introduction into the marketplace and drive adoption, even if other vendors don't embrace Itanium as much as HP does."
Itanium competes on many fronts with AMD's Opteron, and while IBM sells servers with both processor technologies, Bozman said analysts now will be better able to gauge Itanium's success with a full line of servers based on the processor.