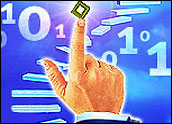 IBM is teaming with Infineon and Macronix on a future computer and electronics memory solution that could hold the key to high-speed, high-density data storage.
The companies, all semiconductor makers, said they would collaborate on phase-change memory (PCM), a form of memory that relies on change in material state — from amorphous to crystalline — rather than the conventional computer memory of today that relies on electrical charge.
Industry analysts indicated PCM and other forms of future memory solutions — including holographic memory — are still struggling for market acceptance with less expensive competition from cheaper flash and DRAM memory. However, conventional computer memory is becoming increasingly difficult to produce in smaller solutions and devices, where there is an advantage to the developing forms of advanced memory, which is also likely to drop in cost.
"As conventional memory gets harder and harder to shrink, that's when these new technologies become interesting," Gartner research vice president Martin Reynolds told TechNewsWorld.
New Phenomena
T.C. Chen, vice president of science and technology at IBM Research, said the joint effort was a reinforcement of IBM's commitment to explore "new phenomena" for memory.
"The project will aim to develop the materials for high performance, advanced nonvolatile memory and evaluate these materials in realistic memory chip demonstrations," Chen said in a statement.
The research work of the joint initiative will be conducted at IBM's TJ Watson Research Center in Yorktown Heights, New York and the IBM Research Lab in San Jose and will consist of 20 to 25 employees from across the three companies, they said.
Tech, Market Breakthrough
Gartner's Reynolds said there are a number of alternative memory approaches that are underway, mainly to address the issue of smaller capacity with smaller devices, and a need for greater density of data memory.
"The challenge to current memory is density," he said. "At some point in the next few years, we'll see one of these (memory) technologies come to market in a big way, I think."
Reynolds added that although most alternative data memory approaches cannot match the low-cost and widescale manufacturing of current silicon technologies, that may change in favor of the alternatives.
"What happens is [the alternatives] can't compete with silicon, but when they can compete [cost-wise], they usually pull ahead," he said.
Changes Favor Today's Tech
Semico Research analyst Jim Handy told TechNewsWorld major changes in the last year — particularly Intel's departure from downplaying the future of flash memory, which now appears will extend beyond three to four years — make the alternative memory solutions less attractive.
Handy, who said the joint initiative will combine Infineon's allocation of resources and IBM's "unmatched" technology toward future memory, indicated there is little concern about alternative solutions now that less expensive technologies have been extended, and made smaller.
"All of a sudden, it's far less important to find a new technology," he said. "[The alternative solutions] are actually in a very weak position. There's a lot less fuel on the fire now."