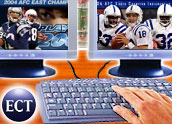 IBM said it had created a computerized approach to help the National Football League organize, store and retrieve a massive catalog of game footage, a project Big Blue hopes can become a model for others with similar expanses of data to store.
The company said the solution, known as Digital Foundation, would make it easier and faster for the NFL to find specific segments within the database and highlights the advantages of an information technology-based approach over the way that broadcasters typically store video and film.
The partnership will enable coach's footage to be accessed through a PC by NFL Films to create programming and analysis for shows on the NFL Network. In the future, the league will be able to use the same technology to "utilize its content for a variety of future league and new media opportunities" including public and third-party access, IBM said.
"Digital content is bringing a new dimension to broadcasting and customers like the NFL," said Dick Anderson, general manager, IBM Media & Entertainment. "The Digital Foundation solution for the NFL illustrates how innovative technology can both streamline operations and enable new business models."
The NFL said the solution will replace a manual search and retrieval process and greatly shorten the time it takes for show producers and hosts to call up specific video clips. Eventually, the technology will "help us capitalize on new business opportunities around digital content," added Steve Sabol, president of NFL Films.
Big and Blue
IBM said Digital Foundation leverages a number of different IBM technologies, including its TotalStorage storage area network (SAN) File System technology and IBM eServer xSeries servers running Linux.
The solution also uses IBM middleware, including DB2 Universal Database, DB2 Content Manager and Tivoli Storage Manager to handle stored data.
The system will manage some 100 different types of content, IBM said, including game video recorded by team coaches, programming that is broadcast during games as well as historic archives of video, audio, images, text and statistics.
The announcement is seen as a major win for IBM in its efforts to convince others with similar vast and sprawling amounts of disparate data to use their solutions to store, search, sort and manage that information.
Super Bowl of Storage
The NFL is widely considered one of the most tightly run ships in the sports world, with strong central control over broadcast rights and other intellectual property. The NFL has been more aggressive about moving into new media outlets recently, announcing a deal to create MP3-friendly broadcasts of key games downloadable through Audible.com and other Internet-related partnership.
But the real win for IBM may lie in its ability to demonstrate that it can handle complex data storage and use projects like the one facing the NFL. In fact, the argument may be that if it can handle such a complex and large project — especially since storing and retrieving video requires an enormous amount of storage capacity and bandwidth on a network — it is well equipped to handle standard enterprise setups.
Like other major IT vendors, IBM is eager to become an all-in-one provider of technology that manages data everywhere from its daily use to back-end storage, a move that is aimed at helping it fend off competition from storage vendors such as EMC that have targeted the data management arena.
IBM is also interested in providing services to key vertical segments. Hollywood will likely be one key market as studios gear up to provide vast amounts of archived and current video over the Internet.
Gartner analyst David Smith said attacking verticals is one way that IBM can better communicate the benefits of its long-standing On Demand Business push, which focuses on flexible IT solutions. "On Demand is important, but it's difficult to sell as a big concept," Smith said. "IBM needs to help potential customers understand how it can solve specific business challenges."