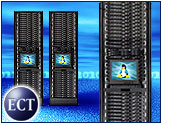 Big Blue is again aiming at smaller targets with the announcement of its DB2 Content Manager Express, new content-management software intended to help small businesses store, manage and protect documents and other data.
IBM, which also announced DB2 Content Manager for Linux, said it has priced the Express version of its content-management software to make the package attractive to resellers and also has simplified installation and maintenance features for smaller businesses.
DB2 Content Manager Express is the latest in IBM's portfolio of small-business offerings, including WebSphere Express products such as a portal and application server.
But Forrester vice president Connie Moore told TechNewsWorld that she is unsure if IBM's modified high-end products will serve the needs of smaller customers.
"I'm dubious on high-end products being scaled down for small- and medium-sized business," Moore said. "It's better to have them designed from the start for small and medium business."
Smaller Needs, Bigger Market
IBM is among other major technology companies, including Oracle and EMC, that are trying to transfer some of their offerings to the small-business market, which is the fastest-growing segment of the IT industry, according to researcher IDC.
The recent traction of content management software — driven primarily by enterprise efforts to comply with new information-retention requirements, such as the Sarbanes-Oxley Act — also has resulted in increased competition among vendors offering technologies associated with storing and managing documents and other files.
IBM spokesperson Lesia Figueira told TechNewsWorld that enterprise content management has been particularly hot during recent months, with a number of acquisitions and a broadened customer base.
"It used to be just insurance," she said. "Now we're seeing more industries, like financial services and media, with a real need for [content management]."
Code for Compliance
Figueira confirmed that the main driver of growth in enterprise content management — which includes document imaging, management and collaboration — is government-imposed requirements on the handling of data.
"Companies have to start figuring out where is this stuff, where do I store it, is it secure and is it compliant," she said. "Companies are now starting to have to do it."
Figueira added that as more compliance deadlines roll out, more customers will be forced to implement content-management systems.
In addition to the new content-management software, IBM said it has enhanced its records management and archiving capabilities with improved versions of DB2 Records Manager and DB2 CommonStore. The new enhancements are intended to help companies more easily apply electronic record-keeping and archive data.
Medium Market
IBM also announced its high-end DB2 Content Manager is now more tightly integrated with other software, including WebSphere Business Integrator and Lotus Workplace Web Content Management.
As for Content Manager Express, Figueira said IBM's target is businesses operating in such areas as distribution, retail and banking. "The pricing is intended to make it more attractive to resellers, so they'll be an important distribution channel for us," she said.
Figueira said the DB2 Content Manager for Linux was spurred by customer requests and now makes IBM one of the few enterprise content management providers to support all major operating systems.
"We think as companies really start to embrace the overall content-management system, they're going to make sure it can integrate with what they already have," she said.
Smaller from the Start
Referring to an earlier attempt at an Express product with Interwoven, Forrester's Moore said IBM failed then to serve the needs of smaller customers. "It was not a good match with customer needs," she said. "It was a very high-end product."
Moore added that content management software designed for smaller businesses from the start, such as that from Hyland Software or EMC's recently acquired Legato, is a better fit for SMBs that require a rich user interface and easy deployment and maintenance.
"Whenever we've seen this scaling down, it's just too much to begin with, even if things have been removed to take away the complexity," she said.