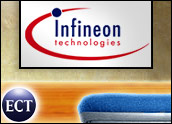 Germany-based chipmakerInfineon has announced that its memory chip spinoff, dubbed Qimonda, will officially launch May 1, ahead of the original schedule for the strategic move.
Qimonda — conceived in response to the challenges of running two very different kinds of semiconductor businesses — will remain under Infineon's umbrella until its Initial Public Offering (IPO), set for an undisclosed later date.
Qimonda and Infineon, which started out as a spinoff of European technology giant Siemens, will function as two separate companies with different strategies.
"I think it really speaks to the idea that it is very, very difficult to combine a memory operation and logic operation in the same company," Semico Vice President Bob Merritt told TechNewsWorld, citing business management and process development differences.
Pressing Ahead
With the spinoff, Infineon is separating itself from the dynamic random access memory business. Splitting both the technical and organizational operations of the two companies progressed fast enough to enable Qimonda's launch two months ahead of schedule, Infineon said.
"Through the strategic realignment, Infineon is significantly strengthening its competitive position," said CEO Wolfgang Ziebart. "Various teams have been working hard and at full speed to accomplish the carve-out two months ahead of the original schedule."
Qimonda, which will remain headquartered in Germany, will rank among the top four DRAM companies in the world, according toGartner. Qimonda will draw on chips manufactured at five fabrication sites around the globe, and it will also operate five research and development facilities, Infineon said.
Straightforward Focus
Given the specialization and commoditization of the DRAM business, it is not surprising that Infineon needed to create a spinoff to compete, Mercury Research President Dean McCarron told TechNewsWorld.
DRAM is "much more straightforward and very much a commodity product," he said. "As a result, it does have a different set of business characteristics."
In particular, memory chip manufacturers must be able to raise capital and produce high volumes, McCarron said, which explains the announced IPO for Qimonda.
Price to Play
The move is a good one, given that it allows the separation of the chip businesses and lets the memory operation focus on a single concept, Semico's Merritt said.
"It's a very difficult, expensive business to be in," he added "It's an expensive game to be playing."
The challenge for the new memory company will be to reassemble, Merritt said, and get focused and moving as quickly as possible. The early start to the strategy is good sign, he indicated.
Market Changes Too
The Infineon-Qimonda split also marks a change in the memory chip industry, which has been characterized by the same products from different vendors and competition based almost strictly on volume, supply and demand, Merritt pointed out.
"I think the memory industry itself is undergoing change. What we're changing toward is a less commoditized version of memory," he remarked.
Infineon's focus on low power and graphics memory is another indication that the market will increasingly be defined by different features, according to Merritt.
"Competition will be based more on product differentiation, rather than just cost," he predicted.