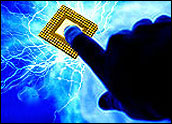 Intel rolled out its new server processors this week with hopes of stemming market gains by rivalAdvanced Micro Devices' popularOpteron server chips.
Intel's new dual-core Xeon 5100s, previously codenamed "Woodcrest," are the first Core microprocessors to hit the market. They represent a big step forward in replacing Intel's Netburst technology, which lagged so far behind in capabilities that AMD was able to scoop up market share and now holds an estimated 20 percent.
"It's just huge," Insight64 Senior Analyst Nathan Brookwood told TechNewsWorld. "The old architecture, Netburst, clearly had run out of steam. I think it had run out of steam a long time ago. The problems with Netburst are what gave AMD an entree into a market where Intel had always been able to block AMD's entry based on technical advantage."
Technical Marvel
Intel claims the new Xeons are the answer to its server market struggles; new Core-based desktop and notebook chips are expected in the coming months as well.
The dual-core Xeons were created with a "power-sensitive blueprint design," the chip giant said, with performance improvements due, in part, to a smaller, 65-nanometer manufacturing process that shrinks both chip size and power consumption.
"Simply put, the Core microarchitecture is a technical marvel that is driving a new era of power efficiency without compromising on what can only be described as eye-popping, dual-core 64-bit performance," said Intel Digital Enterprise Group General Manager Pat Gelsinger.
Core's First Test
The new Intel technology may just meet the company's current demand, rather than offset AMD's recent gains in the server market, suggested Semico Chief of Technology Tony Massimini.
As the first Core-architecture-based processors available to server vendors, the new Xeons will test how well the technology might fare, he said.
Although the benchmarks currently available are coming directly from Intel, the new chips appear to be a major improvement — not only in performance, but also in power use, according to Massimini.
Power Struggle
The technical competition between AMD and Intel has historically been based on performance improvements, but power use is emerging as a key battlefront in the fight.
"We're not going to be talking about gigahertz, because that's not how they're going to increase performance," Massimini said, adding that architecture, memory and power efficiency will be more important factors.
On the increasingly important metric of performance per watt, Intel has gone from distant second to a tie, or even taken the lead with its latest server chips, according to Brookwood.
It is hard to measure the performance of the processors based on their makers' own benchmarks, he added, and called for original equipment manufacturers (OEMs) to put their best platforms forward for a server "shootout."
AMD's Answer
Server virtualization will be a hot area of competition between AMD and Intel, Brookwood noted. While it is hard to gauge the virtualization race now, the differences between the two chip makers — on architecture, memory and cache — will become clearer by the end of the year.
How AMD will respond to Intel's new Xeon push remains to be seen. The smaller chip company is expected to move its manufacturing down to the 65-nanometer scale by the end of the year, and that will give AMD room for more memory and design work, according to Massimini.
"It's an important enabling technology," he said. "I would assume AMD will make improvements in their product line to compete with Intel."