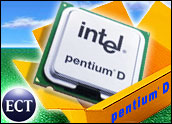 Delivering its first dual-core processor intended for mainstream, consumer and small-business PCs, chip giant Intel launched the Pentium D and 945 chipset this week, touting better support for multiple computing tasks, which increasingly include high-end graphics, audio, video and security.
Intel said its new, multi-core technology was a combination of hardware and software designed to allow consumers to do more with digital content simultaneously, and to allow businesses to harden security, system management and collaboration without slowing down.
Analysts indicated some users, including high-end gamers and regular surf and email users, would not necessarily see the benefits of the technology right away, indicating widespread adoption and supporting software will not be realized until 2006.
However, there was agreement that multi-core processor technology, also being offered by Intel rival AMD, will provide added performance for consumers doing multimedia activities and businesses running today's security stack of firewall, anti-virus, anti-spam and other software.
More from the Core
Intel said the Pentium D and 945 chipset packaged together its latest microprocessors, chipsets, communications silicon, software technologies, and chip design innovation — in particular two processor cores, or "brains," as Intel described it.
The company said the new technology would support consumer electronics features including surround-sound audio, high-definition video and enhanced graphics. Intel also indicated consumers would be able to enjoy more sophisticated content — music, videos, photos and more — simultaneously, such as playing a game while recording a television show.
For office computers, Intel said its new Professional Business Platform combined advanced security, management and collaboration technologies at a "mainstream price." The Pentium D platform also includes Intel's Active Management Technology (AMT), aimed at allowing IT managers to monitor systems, install security patches and diagnose problems on networked PCs, even if they are turned off or have a failed operating system or hard drive.
Performance and Price
Gartner vice president Steve Kleynhans told TechNewsWorld the new dual-core technology for more mainstream use would bring an apparent performance boost to some users, such as consumers working with digital video and other media. Others, such as gamers, would have to wait to see the advantages, he said.
"In gaming, there's no doubt multi-core is advantageous — just look at the next-generation consoles, which are going multi-core crazy," he said. "It's just that the games themselves haven't been taken there, yet."
Kleynhans, who said much of the PC multi-threading infrastructure is already in place, said home media hobbyists and others — including common Web users who are experiencing richer online media with video, Flash and other elements — will get a significant performance boost from the multi-core technology now making its way to the market. Business users will benefit from the ability to run today's necessary security applications without sacrificing performance of other applications workers are using.
Although the first dual-core chips such as the Pentium D will be priced higher than most consumers are willing to pay at the beginning, Kleynhans predicted that as of 2006 there will no longer be a premium on multi-core technology.
Preferred for 'Prosumers'
Mercury Research president Dean McCarron, who agreed the software side of gaming has not yet transitioned to the multi-threaded environment, said "prosumers" — consumers who work professionally or spend much of their time with their computers — would be the first to benefit most from technology such as Intel's Pentium D.
"Video editing, for example, that's something that lends itself well to multi-threaded processing," McCarron told TechNewsWorld.
The chip analyst indicated by virtue of its higher price, adoption of the new multi-core processors would be small at first. However, once manufacturers Intel and AMD shrink and improve their manufacturing, prices will drop and adoption will rise, McCarron said.