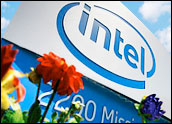 Intel unveiled its newest chips this week in announcing its new "Tulsa" server processors, the latest dual-core, 64-bit Xeon chips from the company.
The firm also announced that its "Merom" mobile processors are now shipping to notebook manufacturers including Dell for its recently acquired Alienware unit, as well as Gateway and Toshiba.
Server Boost
The dual-core Tulsa, or Xeon 7100, represents Intel's mid to high-end offering and signals an effort to up the ante in its competition with rival Advanced Micro Devices.
Its family of eight new Tulsa chips is aimed at doubling performance and tripling performance-per-watt compared to previous Xeon multi-processing chips, according to the firm.
Server hardware from Dell, Fujitsu and some 40 other hardware manufacturers will be suitable for virtualization and server consolidation, Intel said, particularly database, e-commerce, CRM, enterprise resource planning and other heavy enterprise workloads.
Mobile Makeovers
On the consumer side, Intel said its new Core 2 Duo mobile, or "Merom," chips are now shipping to manufacturers.
Intel heralded what it called a "makeover" for mobile PCs as notebook manufacturers including Dell's Alienware, Gateway and Toshiba announced they would be building products around the new processors.
In all, Intel said more than 200 PC manufacturer designs are slated to incorporate its Centrino Duo mobile technology with Merom.
"For laptops the new processor has doubled the performance, giving consumers and businesses an immersive mobile experience while keeping power consumption and battery life unchanged," said Intel's Mobility Group Senior Vice President David "Dadi" Perlmutter.
Server Season
Despite the demand for 64-bit capabilities, virtualization and continued reliability, the multiprocessing (MP) chip market is by far the slowest-moving segment in the processor industry, Mercury Research President Dean McCarron told TechNewsWorld.
Intel has long dominated the server space, but AMD's inroads have been strongest there, particularly in MP processors, he said.
The market is anticipating performance and power improvements from the Tulsa chips, but competition will depend on performance as well as cost and reliability, he noted.
Not as New in Notebooks
As for Intel's mobile offerings, McCarron highlighted the addition of 64-bit capability, but indicated performance gains may not be as dramatic as on the desktop because the new Core architecture is actually based on Intel's mobile processor design, not the older Netburst architecture of previous Intel desktop chips.
"The incremental change is smaller," McCarron said.
Still, the new chips will offer significant enhancements and features, and because they can fit into existing Centrino-based infrastructures, the transition to the new Core 2 Duo mobile chips should be relatively rapid, McCarron added.
More for Mobile
In addition to boosted notebook performance while maintaining battery life and heat levels, the new mobile Core 2 Duos should also deliver better graphics clarity and detail with Core's ability to process more commands at a faster rate, added IC Insights Vice President of Market Research Brian Matus.
"If it has that kind of impact, it will make a notebook type of product really attractive," he told TechNewsWorld.