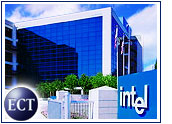 In addition to assigning traditional clock speeds to processors, Intel is rumored to be preparing to assign performance names to its chips. But in discussions with TechNewsWorld, an industry analyst and Intel company insider have indicated those reports are incorrect.
When asked about a new performance-rating system from Intel — reportedly in the works for Intel's Pentium, Celeron and other processors — an industry analyst referred to a nondisclosure agreement signed with the Santa Clara, California, company and declined to comment. However, the analyst did indicate that Intel's plans are not for a performance-ratings system.
Rather, according to a company representative, Intel is planning a numbering or rating system for its chips that is based on the features that differentiate the company's processors from one another.
Name and Number
Intel spokesperson George Alfs declined to comment for TechNewsWorld. Gartner research vice president Martin Reynolds said that, while he could not confirm Intel's reported plans, the company is in need of a better method to differentiate its chips and their features from one another.
"One of the challenges they face is the various features they add in; it's not always clear what those features are," Reynolds told TechNewsWorld. "A new numbering system may make it clearer."
Reynolds referred to slight differences between such processors as the Pentium 4 and Pentium 4 Northwood, and between mobile Pentium M chips Banias and Dothan. But he downplayed the impact of such a move from Intel, adding that the existing processor names and the traditional gigahertz clock-speed rating will still be highly visible.
AMD's Method
Some industry observers presented the reports of Intel's plans as a concession by the chip giant that processor clock speed is not the only indicator of a chip's capabilities.
Intel competitor AMD has been enumerating its processors, such as Athlon, with performance-based numbers and names for nearly three years and has continued to proclaim there is more to a processor than its clock speed.
IDC senior analyst Shane Rau — who declined to comment on the uncertain, reported plans from Intel — said AMD's departure from gigahertz to processor names has proven effective for the company and would be just as effective for Intel.
"Moving away from clock speed to name a processor helped AMD," Rau told TechNewsWorld. "It would help Intel."
Performance Proxy
Rau said chipmakers are like sellers of cars, televisions and other products in that they are seeking better ways to convey the value of different products in their product lines. Rau called clock speed "a lousy proxy for value," even though it used to be the primary measure of a chip's performance.
"It doesn't reflect performance very well, and people care about more than [pure clock-speed] performance in their processor," Rau said. "Focusing on clock speed leaves out other factors in performance, such as cache and front-side bus speeds."
Focusing on performance also leaves out other value factors, he said, such as security and power management. "What does clock speed tell you about those factors?" he asked.
Gigahertz Rate Doesn't Lie
However, Reynolds referred to AMD's troubles with performance-based naming because the naming system also has brought criticisms of skewed results and numbers.
"If you have a performance number, people start to question that performance number based on tests they do," he said. "With gigahertz, there's no question."
Nevertheless, Reynolds said the idea of performance-based naming or numbering is something that does not really impact the market, where both enthusiasts and IT buyers already know what they are getting.
For his part, IDC's Rau said IT buyers might not necessarily be aided by performance-based naming because model numbers still can be misleading.
"However, done right, IT buyers will be able to make better buying decisions because the model numbers will give more information about the relative value of a given product," Rau said.