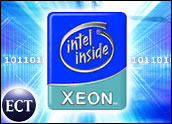 Intel this week signaled changes and delays in its road map for its Xeon and Itanium processors, stirring some speculation that rival AMD is forcing the server chip adjustments with its own success in the space.
Industry analysts, however, said the alterations are too long term to have much impact, and are likely a strategy Intel will further explain and support as time goes on.
"Ultimately, the significance is not that great," Mercury Research President Dean McCarron told TechNewsWorld. "These are fairly long lead-time systems and changing availability of products and shifting things is not that much of an issue."
Semiconductor Schedule
Intel confirmed this week its intention to cancel a Xeon processor scheduled for 2007, replacing it with a different version of the microprocessor that will reportedly improve the chip's communication capabilities.
The company also said it was delaying its release of a high-end Itanium, which was pushed to mid-2006. The updated Itanium will be the first to feature dual-core capability in a single chip, and is being delayed in order to ensure quality parts, Intel reported.
Intel made other alterations to its chip roadmap as well, but provided little detail on the bus and chip communication technologies that will define its forthcoming chips.
Chance for Change
Mercury's McCarron said deviations in a road map that extends a year and a half out are expected, and while the Xeon changes cover a significant portion of Intel's server business, the chip giant is not facing a crisis.
"The changes themselves are significant, but it's not unmanageable," he said. "Intel is making the change now because they think it's the right change to make. Intel is going to make changes they think are best for Intel. It's not a knee-jerk response to a competitor."
McCarron, who said the changes are likely to have little impact on AMD, said he expects to hear more details and justification for the changes from Intel in the near future.
Intel Strikes Back
Gartner research Vice President Martin Reynolds told TechNewsWorld the push out of the Itanium schedule will not have much impact on Intel because the chip is in a smaller market, which is driven more by systems than by chips.
As for the Xeon changes, Reynolds said the chip family was "still trying to deal with transition," and was serving as a go-between for Intel's products of today and tomorrow.
Reynolds said that while speed increases to Xeon had largely hit a wall, the use of multiple cores now gives Intel more headroom again.
"Intel's big hit will be with its new cores next year," Reynolds said, adding that the new mobile-based design and power attributes will allow Intel to scale up.