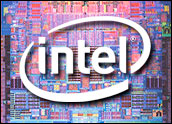 Intel this week announced the availability of its new hardware and software technology known as vPro, which the chip giant said can cut energy use and costs for enterprise IT shops while giving them more advanced remote management and security control.
Claiming vPro can deliver business IT organizations cost savings of as much as 40 percent, Intel said the technology would draw on the advantages of its Core 2 Duo processors to harden security and bolster manageability when incorporated into products from Cisco, Hewlett-Packard, Microsoft, Symantec and other vendors that plan to use the technology.
"Very simply, vPro is a change of course in the way businesses and IT managers view and use PCs," said Intel Business Client Group Vice President and General Manager Robert Crooke, who referred to the security, resource allocation, asset management and uptime advantages of the firm's new offering.
Outside the OS
While enterprise IT users have already been benefiting from virtualization — the ability to run "virtual" instances of operating systems and software applications on single servers — vPro represents an extension of those virtualization capabilities, Gartner Research Vice President Martin Reynolds told TechNewsWorld.
"All they're looking at here is virtualization technology being used outside the operating system," Reynolds said.
For example, while antivirus software has typically required an operating system to function, vPro would allow a user to run virus scans and security updates without relying on the operating system, he explained.
"This puts the technology outside the operating system, so it can't be attacked," he said. "We've seen all of these things before, but it usually requires an operating system to work."
Core Competency
Intel's vPro is the culmination of its latest processor architecture included in the Core 2 Duo chip and other proprietary technologies, including second-generation Active Management, Intel Virtualization and Gigabit Network Connection.
Intel claimed the Core 2 Duo technology at the heart of vPro would deliver as much as a 40 percent increase in both performance and energy efficiency.
The chip giant also signaled it would deliver the technology to mobile PCs with its Centrino Duo or "Santa Rosa" platform next year, bringing vPro's security and manageability gains to laptops.
Fleet Management
The Core 2 Duo and vPro technology advancements are aimed at easing corporate management of fleets of desktop PCs, Insight64 Principal Analyst Nathan Brookwood told TechNewsWorld.
There are two principal areas of improvement with vPro, he said: a firmware enhancement that enables more advanced remote management, and the detection and control of computer viruses and their propagation.
Intel is a year or so ahead of other, more open approaches to achieving such capabilities, Brookwood noted, but there still may be some user hesitation around the technology because it is proprietary and new.
Inside Apple?
A variety of PC and other hardware makers such as HP, Microsoft and Cisco have announced plans to incorporate vPro technology into their products, but one notably silent vendor was Apple, which last year switched to Intel processors for its Mac computers.
Because vPro is independent of the operating system or platform, it could be included in Macs, according to Reynolds.
Apple could use vPro "because of the way the technology works," Reynolds said. "Whether they will or not is another question."