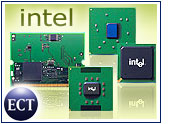 Delivering what it called capabilities previously limited to high-end, specialty computers — including high-definition video, surround sound and file protection — Intel released new products based on its new Grantsdale and Alderwood chipset designs.
The Santa Clara, California-based chip giant said its 915 G/P and 925 X chipsets, formerly codenamed Grantsdale and Alderwood, would improve the computing experience by making PCs based on the new technology — coming from manufacturers including Dell, HP and others — better equipped for digital music, pictures, games and videos.
"Intel innovation is taking the PC through a significant evolution that opens up a broader set of new consumer uses," said Intel Desktop vice president and general manager Louis Burns in a statement. "At the same time, the technologies we are introducing for the PC platform will help drive new uses that boost office productivity, such as simultaneously using multiple monitors with just one PC to work on and track several projects."
Big Silicon Step
Aberdeen Group chief research officer Peter Kastner told TechNewsWorld that the new 915 G/P and 925 X chipsets represent the biggest change in input-output capability in a decade.
Referring to improvements in integrated graphics, memory, audio and new PCI Express support, Kastner said the primary benefit of the new chipsets will be support for media-center-type computers that play music, video and more in a way that previous computers could not.
"All of this adds up to significant changes that will positively benefit consumers and corporate users," Kastner said.
Gartner research vice president Martin Reynolds agreed on the significance of the new chipset technology and added that it will be the basis of most PCs for the next two years.
"This is a major cycle rather than a minor cycle," he told TechNewsWorld.
AV Advance
The "advanced sights and sounds" of the new technology highlighted by Intel include an upgrade in audio quality with support for the latest 7.1 surround sound; boosted digital image storage and protection using RAID O and 1 capability; simpler wireless configuration; and a graphics media accelerator that will provide new graphics features such as high-definition video and wide-screen LCD support.
The new chipsets, coupled with Intel's latest Pentium 4 processors with support for Hyper-Threading technology, are intended to be the foundation of new platforms that will enhance consumer computing while boosting office user productivity, Intel said.
Other significant changes with the new chipsets include support for hardware-based security that will be enabled with Microsoft's forthcoming XP Service Pack 2, according to Reynolds, who said that although corporate users might not feel rushed to adopt the new technology, it will nonetheless represent the "mainstream platform" in a year's time.
Change For Chips
Analysts also said the new Intel silicon technology would pave a path for faster, more capable processors that will now be supported by it. "This is a big [cycle] and it provides the platform headroom for new processors," Reynolds said.
Kastner, who agreed that a major purpose of the new chipsets is to support faster CPUs and more memory, said both corporate and consumer users would benefit from the new technology. Kastner said enterprise users will appreciate fast access and mirroring capabilities from built-in RAID technologies while consumers will benefit from better audio, graphics, gaming performance and the overall media-center PC experience.
IDC senior analyst Shane Rau, who wrote an analysis of Intel's announcement this week, told TechNewsWorld that the new chipset products will appeal mostly to consumers.
"We expect that these chipsets will get the most attention from consumers enthusiastic to embrace the new technologies like PCI Express and DDR2 memory," Rau said.