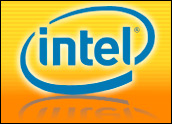 The world's biggest chip company is taking its technology smaller, announcing this week it has hit the 45-nanometer (nm) milestone with its "next-generation, high-volume" semiconductor manufacturing process.
Intel is on track to create chips smaller than the current 65-nm and 90-nm variety by next year, equipping them with more transistors for greater performance and power savings. Its breakthrough keeps the company on pace with Intel founding father Gordon Moore's prediction that data density would double roughly every 18 months, a concept known as Moore's Law.
Performance Per Watt
The 45-nm process will allow Intel to build chips with five times less power leakage, extending battery life and allowing more than a billion transistors on the same-sized processors. Calling it a key step in the march toward high-volume manufacturing of complex devices, Intel highlighted the power and performance improvements for users.
"Intel has a long history of translating technology leaps into tangible benefits that people appreciate," said Intel Vice President and General Manager of the Intel Technology Manufacturing Group Bill Holt. "Our 45-nm technology will provide the foundation for delivering PCs with improved performance-per-watt that will enhance the user experience."
Big Issues, Small Technology
Intel's continued march toward smaller manufacturing and its time-to-market advantage puts the chip giant ahead of the rest of the semiconductor industry, Gartner Research Vice President Martin Reynolds told TechNewsWorld.
Furthermore, Intel's ability to knock down the technological hurdles of shrinking processes shows no sign of changing, he added.
"We can see this continuing for another 10 years with the current technology," he said. "This will be the technology that takes us to four cores."
Intel employs a typical strategy of packing more performance onto its chips than competitors, which helps the company attract more customers and allows it to keep pricing up, according to Reynolds.
Finding a Way
The advent of 45-nanometer processing is a key to Intel's product goals of more efficient energy use and more powerful processors, and is sure to help the company deliver on its promises of power savings, performance, integration of more processor cores and larger cache, said Mercury Research President Dean McCarron. Its advances will be a boon to the entire processor industry, as competing chip makers take advantage of the core technology and create their own customized products and improvements down the line.
As to whether the path to smaller and smaller manufacturing can continue indefinitely, McCarron told TechNewsWorld the track record is positive for the future.
"There's been a concern for years and we always seem to find a way around it," he said.