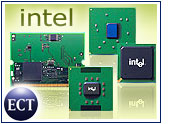 Following its official announcement of three new mobile semiconductors manufactured with a more efficient, 90-nanometer process, Intel's plans for more mobile chips were unofficially forecast through a mistaken posting of information by Dell.
The Dell Web site indicated that in addition to the three new Pentium M processors introduced by Intel this week, computers carrying four other mobile processors will be shipping from Dell this summer.
Analysts were not surprised to hear of more mobile processors coming out of Intel's new 90-nanometer production process, which, combined with larger wafers, will allow the chip giant either to increase its margins or to leverage price against competitors, Meta Group vice president Steve Kleynhans told TechNewsWorld.
"It's not unusual that after a process shift is over, you'll see a flurry of activity," Kleynhans said.
More Mobile Chips
Intel announced this week that it is shipping three new Intel Pentium Ms, code-named Dothan, to move beyond the previous Pentium M, code-named Banias, and, more importantly, to take advantage of its new 90-nanometer manufacturing technology and other enhancements, including faster clock speeds and more on-die cache memory for performance.
The new Pentium Ms, 855 chipset family and PRO/Wireless network connection communication technologies all make up Intel's Centrino mobile technology that is aimed at increasing performance and wireless capability while extending battery life. The chips, which Intel promised could boost performance by as much as 17 percent compared with the previous generation of processors, are shipping with clock speeds of 1.7 GHz, 1.8 GHz and 2 GHz.
Dell's disclosure of forthcoming mobile chips from Intel indicated a series of four Dothan microprocessors, due by this fall, will feature clock speeds ranging from 1.4 GHz to 1.6 GHz.
Productive New Process
Kleynhans said the new chips are a refinement of Intel's previous generation and that, while the new manufacturing process might not mean much for users, it is significant for Intel.
"Whenever you change processes, you have the opportunity to continually refine the chip and continually ramp it up," Kleynhans said. "Once you're over that initial hurdle, it's typically a busy time for six to 12 months after the new process."
He said the first three new mobile processors will deliver increased performance and will both extend battery life and limit the processor's draw on battery power, depending on the chip. The analyst indicated users also can expect improved graphics capabilities and improved infrastructure around the chip with subsequent versions of Dothan due in the fall.
"The real changes come when the chipset changes, and we're not seeing a chipset change here," Kleynhans said.
Flurry of Activity
Mercury Research president Dean McCarron told TechNewsWorld that both Intel and AMD have planned big product transitions for the second half of this year.
Intel is transitioning to the new Grantsdale chipset, new processor socket and bus interface structure technologies, McCarron said. AMD, which just released its Athlon 64 mobile chip last week, also will transition away from its Athlon XP and will move to its own new manufacturing process soon.
"All of these are pretty major transitions," McCarron said. "Any one of them is major, but it's all happening at once."
Kleynhans said Intel's new process will allow the chip giant either to pump up its profits or to wield price against AMD and other competitors.
"They're producing twice as many chips for almost the same price," he said. "They can bolster their margins, or they can use price as a weapon."