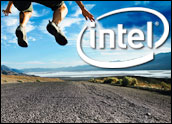 Intel has built an application that will connect Facebook's masses to a volunteer computing application designed to boost the research efforts of three nonprofit organizations.
Progress Thru Processors is launching as a public beta and is available to all Facebook users. It runs as a background process on the computer, automatically directing idle processing power to the researchers' computational efforts. When the user's computer needs the processor performance, the application shifts into idle mode.
Intel has partnered with GridRepublic, a not-for-profit volunteer computing organization that connects volunteers' spare processing power with projects in need of computing resources.
Facebook Interface
Progress Thru Processors' desktop client and application are based on software developed by the National Science Foundation-funded BOINC project at the University of California, Berkeley.
"Volunteer computing has been around for some time," said John Cooney, Intel's online programs manager, pointing to the middleware that BOINC created and that has become the de facto platform for such projects.
What is unique about the Progress Thru Processors application is the Facebook interface, Cooney told TechNewsWorld. "It makes volunteer computing more attainable and user-friendly."
Search for Life – and Computing Power
It is difficult to say whether adding viral growth to the mix will build awareness and add substantial volunteer processing power, Matt Blumberg, executive director of Grid Republic, told TechNewsWorld.
"I am hoping for the best," he said. "By providing a widget that makes it easy for people to participate and that let's them update their friends, I would like to think that all or most of Facebook's users will at least become aware of it."
Indeed, general awareness of the concept is its biggest challenge right now, Blumberg said.
The first major voluntary distributed computing project kicked off in 1999, when SETI@home launched to connect like-minded owners of computers to the search for extraterrestrial intelligence. There were some significant tech issues, though, that took time to work through, noted Blumberg. These have been largely addressed; today the software is stable and offers robust features to scientists.
This is the first time that a social network has been harnessed to identify and connect the computers, Blumberg believes. "It is a real leap forward for volunteer computing."
Facebook is not commenting on the application, as it was built solely by Intel on the Facebook platform, spokesperson Malorie Lucich told TechNewsWorld via email. There are some 350,000 applications on the Facebook platform, including a number that further causes, such as the Progress Thru Processors app.
Three Projects
Progress Thru Processors is starting out with only three research endeavors:
Rosetta@home, which uses computing power to help find cures for cancer and other diseases such as AIDS and Alzheimer's;
Climateprediction.net, dedicated to understanding global climate change by predicting the Earth's climate and testing the accuracy of climate models; and
Africa@home, which is currently focused on identifying strategies to combat malaria by studying simulation models of disease transmission and the potential impact of new antimalarial drugs and vaccines.
More projects may well be added as the application gains traction. "We wanted a good cross section of project areas," explained Cooney, "but for our launch we needed to start out with a finite number."
These three, he said, all have a desperate need for more computing power.