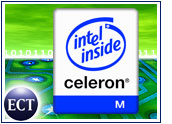 Kicking off the new year by trying to leverage last year's biggest PC trend — burgeoning sales of cheaper notebook computers — Intel and AMD released new mobile processors for the value and 64-bit markets this week.
Intel is aiming the Celeron M at the value market to compete with AMD in the value space and to create differentiation from the company's higher-end Pentium M processor. AMD, meantime, continued its push in the notebook computer market with the introduction of the new Mobile AMD Athlon 64, the latest addition to the company's Athlon 64 family and touted as the industry's only Windows-compatible 64-bit mobile processor for mainstream notebooks.
The coming year is likely to bring a slew of new processor announcements as Intel, AMD and other chipmakers seek to feed a hungry market of consumers and professionals. "2004 is probably going to be one of the more exciting years in microprocessors because of all the new products and the positioning," Mercury Research president Dean McCarron told TechNewsWorld.
Mobile Moves
AMD has been significantly more competitive in the mobile space over the last two quarters, and Intel has shifted more resources there to meet demand with its Centrino, Pentium M and now Celeron M.
Santa Clara, California-based Intel said the new value mobile processor is based on 0.13-micron technology and is intended to give users a balance between performance and value. The Celeron M will ship with clock speeds of 1.3 GHz, 1.2 GHz and an ultra-low voltage (ULV) version at 800 MHz. The chips are priced in quantities of 1,000 at US$134, $107 and $161, respectively.
With its new Mobile AMD Athlon 64, the Sunnyvale, California-based company said it is enabling the industry's first 64-bit mainstream notebooks. The company announced the Mobile Athlon 64 will be supported by more than 60 manufacturers and system builders, including HP, eMachines and Fujitsu.
Aberdeen Group chief research officer Peter Kastner told TechNewsWorld that both companies are rightly attacking the mobile PC space, which is the fastest-growing portion of the industry.
"2003 proved that laptop sales are price elastic in that $800 to $1,000 laptops are flying off the shelves," Kastner said.
Game of High-Low
Mercury's McCarron said Intel's Celeron M carries on the tradition of previous value processors from the company, which has not introduced anything new in the space for a while. "It's not plugging a gap so much as it's filling a role they've established with earlier products," he said. "Celeron M really takes over from previous Celeron products."
The analyst said that by leveraging Pentium M technology, Intel is creating a value product through the introduction of a higher-end product, a common practice in the industry. "Really, the development of [Celeron M] is more centered on the fact that they had the Pentium M and needed a product in this space of value-oriented and battery life," McCarron noted.
Kastner, however, said the Celeron M is not a "dumbing down," instead indicating Intel's chip is simply a low-cost, high-performance microprocessor designed for the wireless world. He added that the chip "will be quickly incorporated into value-oriented, under-$1,000 machines."
Lack of Response
While Intel holds a commanding lead in the overall chip market, AMD has aggressively challenged the leader in the mobile space, where AMD has some advantages, according to McCarron. "AMD is coming out with a number of new products that, at this time, Intel doesn't really have an answer for," he noted. "They can't say we have something that is equal or better."
Kastner said AMD's Mobile Athlon 64, which is aimed at the same notebook market, is "another respin of AMD's long-term effort to increase laptop market share." The three Mobile Athlon 64 microprocessors are priced at $293, $233 and $193 in quantities of 1,000, AMD said.