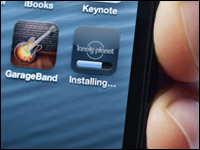 A study has tabbed iPhone 5 users as Europe's biggest data-gobblers, consuming — on average — more than four times more data than people still using the iPhone 3G.
The study, released by data analysis firm Arieso and reported by Reuters, said that a single iPhone 5 user is equal to about four iPhone 3G users. What's more, iPhone 5 users reportedly consume 50 percent more data than iPhone 4S users, who were last year's biggest data consumers.
Newer devices, such as advanced smartphones and phablets, also are creating additional demand for wireless data, the study found.
China Requires New Homes to Get Their Fiber
China's Ministry of Industry and Information Technology has adopted a policy that will require all newly built residences to be equipped with fiber network connections, according to The China Daily.
The new rule, which applies to abodes located in areas where a public fiber optic network is available, will take effect on April 1. It is designed to grow China's broadband networks and, in the words of the state-run China Daily, stimulate potential business for the telecom industry that could be worth trillions of yuan.
The government reportedly hopes that 40 million families will be connected to fiber networks by 2015.
In its article about China's fiber decree, Wired writes that the costs of fiber networks are driven up by the last mile phase — that is, the process of connecting individual homes and businesses to a fiber network. China's policy, therefore, shifts this cost from residents to builders.
Tim Cook: China Will Be Apple's No. 1 Market
China will eventually surpass the U.S. as Apple's largest market, Apple CEO Tim Cook said, according to China's Xinhua News.
Apple had US$5.7 billion in third-quarter sales in China, compared with $14.4 billion in the U.S., according to Bloomberg.
Cook did not give a timeframe for when he expects China to overtake the U.S. as Apple's No. 1 market, but Cook's actions back up his words. He recently made his second trip to China in less than a year. He also told Xinhua that the company plans to add new Apples stores to the current crop of 11 that dot China and Hong Kong.
Apple's growth in China has been hamstrung because the company currently only works with smaller carriers, Bloomberg reports. Cook, however, reportedly met last week with Xi Guohua, the chairman of China's No. 1 wireless company, China Mobile.
Kenya Texts in Effort to Stop Poaching
In response to the recent killing of a family of 11 elephants, Kenya's wildlife agency is installing a text message-based system to warn rangers of potential poaching threats, according to The Guardian.
The warning system, which the Kenya Wildlife Service said could reduce poaching by up to 90 percent, is connected to fences encasing parks and wildlife sanctuaries: When someone tries to breach the fence, the alarm automatically relays an SMS to a security switchboard.
Implementing such a system throughout all of Kenya's wildlife refuges is not feasible, according to The Guardian. The park where the recent elephant killings occurred, for instance, is about the size of Belgium.
In December, Google donated $5 million to the World Wildlife Fund to use drone-like technology to protect African wildlife.
More than 1,000 rhinos and more than 1,000 elephants were poached in 2012, The Guardian reported.