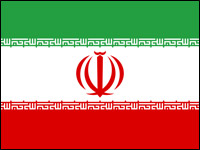 Iran's defense minister is going to be ticked off at the Photoshop minister.
A photo of Iran's Qahar 313 stealth fighter is bunk — just like the last one, according to The Atlantic Wire.
After being called out for its fake stealth fighter pic last week, Iran went all in and released a new, updated photo of the jet soaring over Mount Damavand, the highest peak in Iran.
Alas, the image of the mountain reportedly matches an image available not from the Iranian Air Force, but from PickyWallpapers.com, a stock image site.
President Mahmoud Ahmadinejad described the jetas "among the most advanced fighter jets in the world," according to The Age.
Iran was called out in 2008 for photoshopping an image of missiles.
Canada Nixes Web Suveillance Act
The Canadian government will not move forward with the Protecting Children from Internet Predators Act, according to The Register.
The proposal would have enabled national security and law enforcement to force Internet service providers to divulge subscriber info.
Numerous Canadian groups opposed the bill, The Register reported. OpenMedia.ca created a website called stopspying.ca that accumulated more than 100,000 e-signatures of people opposing the bill.
Opponents claimed the "anti-pedophile" bent of the bill was merely a guise for authorities to snoop.
European Broadband Big Loser in Cuts
Marathon negotiations last week between European leaders have left the EU's budget for broadband upgrades decimated, according to ZDNet.com.
The European Commission, the executive branch of the EU, had originally budgeted about US$9 billion for "broadband networks" and about $1.6 billion for "digital services." That money would have come from a $55 billion budget earmarked for the Connecting Europe facility, which sought to integrate networks across the 27-country bloc.
Those figures, however, didn't make it out of negotiations.
EU leaders, who were deciding on budget plans for 2014-20, cut about $45 billion from Europe's "payment ceiling" over that span. That chopped the would-be funds for digital upgrade to just $1.35 billion.
The debt-ravaged EU had hoped to have at least half of the European population subscribing to broadband by 2013, according to ZDNet, but that goal will likely be shelved.
Chinese Use Social Media to Tee Off on Beijing
Chinese netizens, including the former head of Yahoo China, are lambasting authoritiesfor their "relatively mild response to North Korea's nuclear test," reported AFP.
The citizens' response to Beijing's non-response came largely via the nation's Twitter-ish platform, Sina Weibo. Chinese officials did not mention any reprisals or sanctions in the wake of North Korea's nuclear tests, which came two days after China's biggest holiday, the Lunar New Year.
Beijing is North Korea's "most important backer," according to AFP. Academics and ordinary social media users alike, however, said that Beijing was acting irresponsibly. A commenter said that China's policy toward North Korea was like "keeping a crazy dog to guard the house."
Xie Wen, the former manager of Yahoo China, called on Beijing to abandon a 1961 treaty of mutual assistance.
Social media criticism is a touchy topic in China. Authorities try to keep a tight lid on dissent, but recent incidents — including a horrific 2011 train crashand the controversysurrounding politician Bo Xilai — have prompted angst in Beijing about what gets said by social media users. Those users have devised code words to discuss topics deemed inappropriate, but even the codes are sometimes censored.