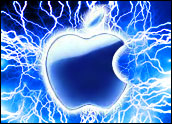 The iTunes store has opened up in Russia and a slew of other countries that were previously left off its coverage map.
According to Cnet, the 56-country expansion nearly doubles the number of countries in which iTunes is now available. Turkey, India and South Africa were also part of the launch, which Apple says will feature local and international music targeted at specific audiences.
Cnet pegs Russia as one of the greatest challenges to Apple's music sector. Russia not only boasts a handful of legitimate downloading services, but is also one of the world's hotbeds for piracy.
Dropbox Eyes Dublin for Second Office
Online storage and syncing provider Dropbox plans to open its first international office in Dublin, Ireland, according to AllThingsD.
The international push for Dropbox makes sense. The majority of its 100 million users are from abroad, and one-third are from Europe, CEO Drew Houston said. Getting into a different time zone helps the company as well, as the Dublin office will handle myriad tasks — sales account management, user operations, support, etc. — that are best carried out during the workday. Ireland is eight hours ahead of California.
AllThingsD doesn't quote Houston discussing Ireland's tax rates, but that, too, could be an incentive for Dropbox. A handful of U.S.-based Internet companies have also set up shop in Ireland, which has a more palatable corporate tax rate than most other western European countries.
Ireland has a 12.5 percent corporate tax rate, compared to 35 percent in the U.S. and somewhere between 20 to 30 percent in the UK.
Google, Facebook, Microsoft and Apple are among the companies that save billions in taxes each year by using Irish subsidiaries. Government officials in the UK and Australia, among other places, have called out U.S. companies that skirt taxes, albeit legally, by operating out of Ireland.
iPhone, Too, Set For World Expansion
iTunes, however, isn't the only Apple entity preparing to expand.
The iPhone 5 will be available in dozens of hitherto iPhone 5-less countries, including South Korea, home of Samsung, which is Apple's main smartphone competitor.
According to a statement from Apple, the phone is already available in 47 countries, having been released in September in the U.S., Japan, Australia and much of Europe.
Apple's expansion announcement comes on the heels of its announcementthat the iPhone 5 will soon be available in China, which is Apple's second-biggest market.
Ambassador Discusses US Stance at Internet Conference
U.S. Ambassador Terry Kramer has urged for a continued separation of the UN and the Internet.
Kramer told FoxNews.com that nothing about the Internet should be "subject to UN review and regulation."
Kramer's comments come as the World Conference on International Telecommunications got under way in Dubai. The conference is being put on by the International Telecommunications Union, which is part of the UN.
The U.S. is actively opposing proposals that would legitimize content review and charging for the transfer of content, which he equated to taxing the Internet. Kramer also expressed concern about a Russian proposal to give nations the sovereign right to regulate what is on their Internet.