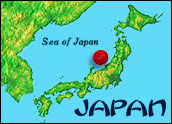 Starting April 1, Japan's Fire and Disaster Management Agency will send email alerts to residents' phones should North Korea start lobbing missiles.
The messages would be sent using the nation's already-functional J-Alert, a free system designed to notify people about earthquakes and tsunamis. The missile-warning service is aimed specifically at those who use NTT Docomo, KDDI au and Softbank Mobile devices.
Information contained in the missile messages would include the direction of the missile(s), and whether or not an evacuation is needed.
North Korea last week fired a pair of mid-range ballistic missiles that landed in the Sea of Japan, the body of water separating the two nations.
[Source: The Asahi Shimbun via The Register]
Turkey Intercepts Google Service as Part of Web Cleansing
Turkish Internet service providers are masquerading as Google's Domain Name System (DNS), which had been a popular way to skirt the country's expanding Internet crackdown.
Turkey had taken to simply blocking Google DNS, but now Google reports that the service has been "intercepted." This puts users at risk of having their Web traffic monitored, according to Google.
Turkey is quickly becoming dictatorial about the Internet. The nation blocked Twitter a few weeks ago, then YouTube, and now apparently is tightening its grip on the various methods people were using to circumvent these blocks. The YouTube block came after an anonymous user posted an audio recording purportedly between a quartet of Turkish leaders discussing military action in Syria.
[Source: Google Online Security Blog via The Verge]
Apple, Samsung Renew Court Rivalry
The world's highest-profile legal drama is getting renewed in a California court Monday as Apple and Samsung duke it out. Again.
Apple claims that Samsung ripped off designs and features, and that the South Korean company should pay a US$40 royalty for each device that runs on software conceived by Apple. That would-be penalty is more than five times the amount sought in previous trials and would be a groundbreaking award in the smartphone-lawsuit realm.
Should the court deem Apple in the right, Samsung's tab could reach $2 billion.
Apple and Samsung already have produced some memorable courtroom moments, including quips from judges in places as far-flung as Australia and Great Britain.
[Source: The Guardian]
UK Law to Sanction CD Ripping
UK consumers will be legally permitted to make personal copies of their media — including CD, DVDs and e-books — starting June 1.
The nation's Intellectual Property Office announced the change, stipulating that CDs should be used for purposes such as "format shifting or backup" — as opposed to, say, burning cool stuff and giving it to your friends.
As it stands now, it is not technically legal to copy content from a CD onto an MP3 player. While such regulations have long been obsolete in practice, the UK rule switch will officially bring these laws into the 21st Century.
The UK set the wheels in motion to allow this sort of copying back in 2011, but copyright holders put up a fuss.
The U.S. and Canada already have legalized this type of content ripping.
[Source: CNET]