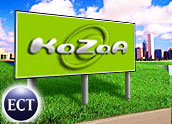 Kazaa, an Australia-based peer-to-peer Web site that managed to elude the legal reach of the music recording industry for many years, has agreed to an out-of-court settlement of US$100 million.
Owner Sharman Networks also agreed to prohibit illegal file sharing on the Kazaa network going forward.
In theory, at least, the agreement paves the way for Kazaa — once the most famous P2P outlaw of them all — to go legit. However, the site faces more than a few hurdles before it will be able to actually set up shop with a business model that one day could lead to profits.
$100 Million From Where
From the music industry's perspective, the settlement sends an unmistakable signal that any Web site that offers unlicensed content to users will be made to pay in the end, said Paul Brindley, managing director of Music Alley, a UK digital music consultancy.
"What it means for Kazaa, though, remains to be seen," he told TechNewsWorld. "It is still an open question whether they can develop into a legal service and earn revenue as a licensed file-sharing service — particularly if they really do have to get their hands on $100 million," he said, referring to the lack of additional details about the settlement.
Also, Brindley noted, there is this to consider: "'Kazaa' has been the name that rights owners have hated the most, over almost any other file-sharing service. So even though they have reached an agreement not to pursue this in court, it doesn't mean they will turn around and give Kazaa the rights to their content."
More Complicated
Even without these dual burdens, establishing a successful digital music endeavor has proven elusive for companies that don't have ancillary services or products — such as Apple's iTunes and iPod combination — to provide revenue. As for licensed file-sharing services, success in that area is even rarer. "It has been more complicated than first expected to set up operations," Brindley said.
Kazaa's brand — so vilified in the recording community — is held in high regard among its users, and that would be a help. At a certain point, though, as it monetizes more of its services, Kazaa is bound to lose its community appeal, Brindley said, as did the original Napster.
"Most people have found by now that trying to make money off of digital music without an ancillary revenue stream is not easy. The margins are tight, and it is doubtful there is a gold mine out there."