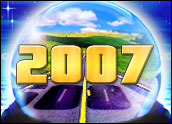 It's 12:30 p.m. on Jan. 2. You are at the local food court for lunch, and acutely conscious of your New Year's resolution, which is to lose those pesky 10 pounds you've been trying to shed forever.
You narrow your choices to two options: a fruit smoothie and a bagel from Dunkin' Donuts or a sandwich from Arby's. Which would best help you stay on a weight-loss path?
The Skinny on 50,000 Foods
Your best bet — surprisingly enough, according to CalorieKing.com — is Arby's, where you can savor a roast beef sandwich, two potato cakes and a medium Pepsi for 746 calories. If you went the Dunkin' Donuts route, one medium strawberry-banana smoothie and a plain bagel would weigh in at approximately 870 calories.
CalorieKing.com is a convenient and comprehensive source. It claims to provide nutritional data for more than 50,000 foods, including calorie counts for popular menu items at numerous fast-food and chain restaurants. Of course, such information is readily available from a variety of sources, including many of the restaurants' own Web sites. However, CalorieKing.com asserts that it offers more data points than the U.S. Department of Agriculture's database.
CalorieKing.com is hardly the only Web site available to dieters who are on a long-term plan or have, like so many people this time of year, promised themselves that they would begin fresh in 2007. (See WeightWatchers.com for the mother lode of diet and exercise information.)
Nevertheless, CalorieKing.com is symbolic of the multitude of Web sites available to help people who have promised themselves that this is the year they will lose weight, quit smoking, adopt a greener lifestyle, get their finances in order, become more organized or give to charity.
The following list includes some additional sites that may help you reach some of your goals.
Getting Your Money in Order
Next to weight loss, straightening out personal finances is probably the top area most people resolve to improve. One of the best personal financial portals can be found at Yahoo Finance, which provides tips on paring down credit card debt, maximizing retirement savings and finding car loan and mortgage deals.
Credit card debt, in particular, is a big problem for a lot of people. Sites like Yahoo Finance will run through the basics — suggesting you pay more than the minimum, pay off the highest interest rate card first and (perhaps most importantly, given the rates some cards levy) negotiate a lower interest rate.
This piece of advice works some of the time, but credit card companies can be particularly inflexible with some borrowers. Also, thanks to some of their tactics — such as universal default policies in which rates are raised if you are late with any payment — more borrowers are finding themselves paying off debt at an interest rate well over 25 percent.
Before you swallow such a rate, go to Prosper.com, a peer-to-peer lending site that provides unsecured loans to people. Their policies are not as onerous as some credit card companies and, while you may not get a 4 percent rate, you mostly likely will do better than the 29 percent some cards levy.
Maintaining Your Health
Health insurance, especially for the self-employed, is another sticky financial issue for many. If you don't shop around, you can find yourself paying up to US$500 a month for an individual policy.
eHealthInsurance.com is a good place to look for individual policies that are reasonable. It allows consumers to compare features, policy limits and other pertinent facts. Plus, it has an online agent available to discuss any questions.
Also, while shopping for health insurance online, another good site to check is MIB.com, the Medical Information Bureau's Web site. MIB.com is an industry association that maintains underwriting data of anyone who has applied for health, life or disability insurance over the last several years. Checking it before you apply for health insurance is akin to checking your credit report before applying for a mortgage.
Speaking of insurance, one of the first questions any underwriter will ask is if you smoke. One site worth checking out for smokers trying to quit is Dr. Mike's Top Ten Tips to Quit Smoking, a Web site run by Michael Rabinoff, D.O., Ph.D., a psychiatrist and author of Ending The Tobacco Holocaust.
On the Hunt
If finding a new job is key to straightening out your finances, Job-Hunt.org is a good portal to visit, offering links to more than 7,300 job search resources.
Another interesting financial resource to check out is ShareBuilder.com, an online brokerage that charges $4 per trade, perhaps the lowest fee among the online brokerages. You can trade an extensive range of stocks as well as many EFTs.
Finding bargains is another way to leverage the Web. Two sites to check out are MyRatePlan.com and Dealio.com.
MyRatePlan.com compares cell phone plans, credit cards, Internet service, home television and phone plans to find the best deal. Use it often to jump around, because vendors change their plans and rates very often. Loyalty can cost a consumer.
Dealio.com is a relatively new site with a comparison shopping toolbar that alerts a shopper when she is paying too much for a particular item, as well as listings of new promotions and deals. For instance, over the New Year's weekend it flagged a Kodak EasyShare Digital Camera available at Best Buy for $229.99. Normally this camera would sell for $349.99.
Giving Back
For people who have resolved to give back to the community, there are a number of online stops worth making. The National Aquarium in Baltimore's Web site suggest nine actions anyone can take to support the environment.
VolunteerMatch.org connects people to volunteer opportunities in their area by zip code. There are some 45,000 nonprofit groups registered with the site. Another interesting Web site for volunteers is OneBrick.org. Right now, it is only available in a few cities including San Francisco and Washington.
The site focuses on on-off volunteer opportunities for people who cannot make a regular commitment. After each event, volunteers gather at a local restaurant to socialize, making the site a popular destination for single people.
If you decide to contribute money rather than time, please check out ScamBuster.org's Charity Scams site first, especially if you're considering giving to an organization with which you're not familiar.
Another good way to give a charitable donation is to shop via Web sites that have signed on retailers to donate some of their proceeds, which are booked through that site to charity. Many of these sites (such as The Animal Rescue Site), are for a specific cause; however, IGive.com is among the most comprehensive.
There are hundreds of retailers participating, and shoppers have a huge selection of charities to which they can designate their contributions.
Organizing It All
If these options make you realize you don't have the time to follow through, one final stop to try is the National Association of Professional Organizers' Web site.
The site allows user to search for both commercial and residential professional organizers using specific categories that range from the general chronic disorganization to more specific areas like time management.