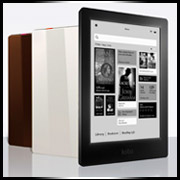 Kobo on Monday introduced the Aura HD, an e-reader that sports some high-end touches such as a one-month-plus battery life.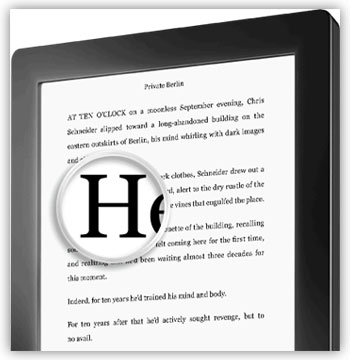 Other features that set the Aura HD device apart from other e-readers in the market include a high- resolution E Ink display and a 6.8-inch screen designed to look and feel more like a book.
The Aura HD, which retails for US$169.99, became available for pre-order on Tuesday on the Kobo site.
High-End Specs
Kobo Aura HD also is equipped with special technology that directs light at the page instead of in the reader's eyes and a 1 GHz processor that Kobo claims is 20 percent faster than that of other e-readers.
It has 4 GB of storage to support 3,000 e-books and offers expandable memory of up to 32 GB. There is also WiFi connectivity.
Finally, the company is debuting a social reading platform called "Reading Life" with the Kobo Aura HD. It is a platform to share thoughts about books, as well as track reading stats and other statistics on the reader's Facebook timeline.
Waiting for the End of E-Readers
The Kobo Aura HD may seem like a foolish endeavor to anyone who's become enamored with the tablet form factor and functionality. "Why would anyone want to invest in another device if you're going to carry around a tablet as well?" goes the thinking.
This argument certainly resonates with a segment of the gadget-buying population, but it ignores the peculiar likes and dislikes of the hard-core reader, who may spend hours with the device and will appreciate the reading-specific features.
"It is true that more people are selecting tablets because they are multifunctional, but e-readers will not be rendered completely obsolete, James Brehm, senior strategist and consultant with Compass Intelligence, told TechNewsWorld.
"I wouldn't say it will be a strong niche or standalone technology, but it is not going anywhere," he reiterated.
The price point will remain a factor, he said. "I think it will be a gut check for many consumers, especially if they know they will be using the device only for reading."
Many respondents to a survey Brehm conducted said they planned to buy a tablet to replace an e-reader.
"Their responses say that they will make the switch," he said, "but the evidence shows that they are still buying [e-readers]."
Combined with the e-reader's special features, said Brehm, the price differential between the tablet and the e-reader is enough to keep the sector going. -end-