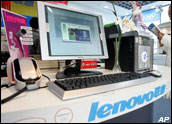 Industry analysts gave their blessing to Lenovo's deal for IBM's PC business, finalized this week, indicating that the Chinese company will gain access to the U.S. market while IBM trades a low-profit business division for its own access to China, heralded as the world's fastest growing IT market.
Lenovo announced its US$1.5 billion deal for IBM's PC business — consisting of $650 million in cash and $600 million in Lenovo shares — had closed, making it the third largest PC maker in the world with estimated annual revenue of about $13 billion. The deal was first announced last December.
Lenovo hopes to repeat the success it has had in the Chinese market in the U.S., where it will become the preferred supplier of PCs for IBM, which will continue to offer its range of enterprise and small and medium business solutions. Analysts also indicated IBM will be able to focus on and sell those software and services and, more importantly, gains entry to the Chinese market, where its non-PC business is a premium.
A Good Match
Gartner Group research vice president Leslie Fiering told TechNewsWorld the deal was a good one for both Lenovo and IBM, adding that unlike past PC mergers on the same scale — such as Hewlett-Packard and Compaq — the two companies blend well together without redundancy.
"Lenovo's a leader in China and totally understands the Chinese market, but they don't understand how to expand beyond China," she said. "It's good at targeting its products and advertising. It's a savvy company and also one that is very aware of quality and design, so from that point of view, it's a good match. The deal also works because of the fact there is very little overlap. They're able to go literally from day one."
Fiering said with IBM acting as its distribution channel and considering the two companies' combined innovation, a slew of new products can be expected from Lenovo.
"Lenovo's now free to be more aggressive and do punchier marketing and advertising," she said. "The impact on the U.S. is going to be a very strong competitor. They're not going to be afraid to exploit it."
PC Synergy
Lenovo, which announced the closing of the deal ahead of schedule with transition and integration activities already underway, said it will now be leveraging the IBM PC business division to deliver a total of approximately 14 million units per year. Lenovo said it will look for synergies not only in the technology of the two companies, but also in procurement, marketing, manufacturing and supply-chains.
"We expect to capture synergies starting today through leveraging the complementary nature of Lenovo and (IBM PC) customer bases, product offerings and geographic coverage while utilizing Lenovo's highly sophisticated operating platforms," said a statement from Lenovo chief executive officer Stephen Ward.
IBM and Lenovo also announced a marketing and services alliance whereby Lenovo PCs are marketed by IBM, which will be Lenovo's preferred supplier of services and financing.
Entry Wedge
Yankee Group analyst Andy Efstathiou said while the deal is certainly beneficial to Lenovo, which can now move into IBM's "robust ecosystem," it may be more important for IBM, which gains access to the largest growing market in the world.
"Personally, I think it's an even better opportunity for IBM because the fastest growth in the global marketplace is expected to come from the Asia Pacific region and the fastest growth there is expected in China," Efstathiou told TechNewsWorld. "This creates an entry wedge for (IBM) to sell (professional services and software) in the Chinese marketplace. This alliance provides them with a channel to the market in China its products and services that cannot be well-produced in China — high end services that are usually sourced out of the U.S. and Western Europe."
Efstathiou said the deal may also give Lenovo a competitive advantage given its business is based on relatively low-cost PCs that require mass markets and economies of scale for vendor margins.